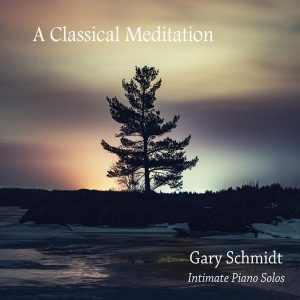 Canada native Gary Schmidt decided at an early age that he would be a pianist when he grew up. Mostly self-taught as a child, he eventually studied at both Tyndale College and the Royal Conservatory of Music in Toronto. "A Classical Meditation, " a collection of fifteen pieces composed for solo piano and interpreted here by Schmidt, is his fourth album.
The opening track, the plaintive "Adagio" from Bach's Concerto in D minor, is performed with an exquisite delicacy. Next is Philip Glass's "Etude No. 2", relaxing and musically captivating, with artful rhythmic and dynamic changes, interesting harmonies, and a charming melody. Perhaps his most beloved and universally recognized piano piece, Debussy's "Clair de Lune" follows. Similar in grace and simplicity to the better known "Gymnopedies" and "Gnossiennes," Erik Satie's "Danse de travers" from "Pieces Froides" features a spare melodic line resting on an arpeggiated left hand accompaniment. A second selection from the "Pieces Froides" appears later on the album. Next is an elegant, peaceful rendition of an early work by the late romantic Russian composer Scriabin (it is believed he was only 12 when he wrote it!), the "Nocturne in A flat major," which shows the influence of Chopin, with its lyrical melody and gentle accompaniment.
Arvo Part's "Fur Alina" shows the influence of the composer's mystical experiences with chant music; Schmidt's performance of the piece is meditative with a minimalist approach. The slow movement from Shostakovich's "Second Piano Concerto" is next; the piano solo is accompanied very effectively by synthesized strings. Subdued and romantic, this rendition is evocative and tinged with melancholy. I have heard Beethoven's "Moonlight Sonata" played literally hundreds of times, yet Schmidt's interpretation of this iconic work was fresh and inspired, as was his take on the next work, Pachelbel's "Canon in D." Chopin's "Nocturne in C-sharp minor " is at once haunting and mesmerizing.
The second movement of Ravel's "Piano Concerto in G Major" is arguably one of the most beautiful pieces of movement ever written, and this excerpt, containing the long piano solo that begins the movement, has an almost improvised quality. Similarly, Gluck's "Melodie: Dance of the Blessed Spirits" from "Orfeo ed Eurydice," is one of the most gorgeous melodies from all of opera; this piano solo arrangement is dark and sultry. The second movement of Beethoven's "Symphony No. 7," arranged here for piano solo, was considered by Beethoven to be one of his best works, this performance is sorrowful and haunting. The album concludes with a moving solo piano rendition of the "Largo" from the symphony "From the New World" by Antonin Dvorak.
This is a captivating collection of both highly acclaimed classical works along with lesser-known pieces that deserve a wider audience and will be appreciated by anyone who enjoys peaceful solo piano music masterfully played. Highly recommended!