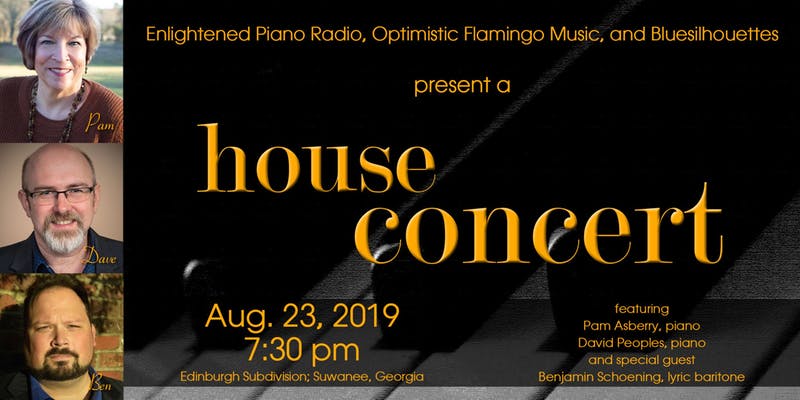 House Concert
Piano & Voice: Asberry, Peoples & Schoening
Friday, August 23, 2019
7:30-9:00PM
Suwanee, GA (you will be provided with the street address following the purchase of tickets)
Join us for an evening of music featuring Enlightened Piano Radio artists Pam Asberry and David Peoples with special guest Benjamin Schoening!
For tickets and more information, click HERE.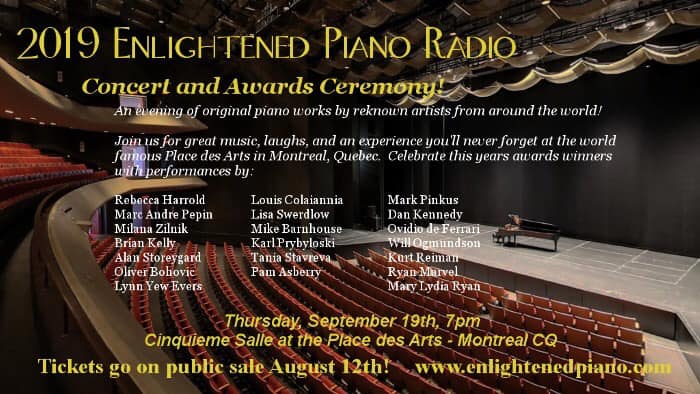 2019 Enlightened Piano Radio Awards Concert & Awards Ceremony
Thursday, September 18, 2019
Place des Arts, Montreal, Quebec, Canada
2019 awards finalists will perform and the winners will be announced! This year's nominees are:
BEST HOLIDAY ALBUM:
Pam Asberry
Philip Wesley
Ryan Marvel
ALBUM OF THE YEAR:
Dan Kennedy
Lisa Swerdlow
Marc-Andre Pepin
SOLO PIANO:
Brian Kelly
Marshall Barnhouse
Milana Zilnik
PIANO with INSTRUMENTATION:
Brenda Warren
Cathy Oakes
Donovan Johnson
BEST NEW ARTIST:
KeithTim Anderson
Tania Stavreva
Vicente Avella
BEST JAZZ ALBUM:
Alan Storeygard
Eric Bikales
For more information, click HERE.
For tickets, click HERE.