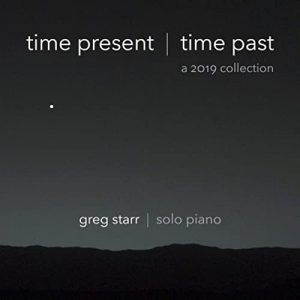 Pianist and composer Greg Starr has enjoyed an illustrious career in music, working with such clients as Wisconsin Public Television, Milwaukee Children's Theater, the Library Of Congress, and Hal Leonard Corporation and such artists as Milli Vanilli, Steve Allen, The Rakes, and Fred Rogers. Starr's first release since the2012 album "A Singular Point of Grace," the EP "Time Present, Time Past" is an intimate collection of works created over the past several years. Accompanying liner notes contain inspiring quotes and short descriptions of each piece.
"When Dreams Take Flight" is a sunny, cheerful celebration, opening joyfully in the middle register of the piano with a persistent, syncopated rhythm, then transitioning into a minor key in the middle – perhaps a reflection of the feelings of discouragement we experience when life throws challenges at our dreams – and then returning to expansive opening theme. "The Waiting" is very free flowing, with lots of spaces between the sounds and phrases; although the music is tinged with sadness, there is also a certain warmth and optimism woven throughout. "The Front Porch" incorporates Floyd Cramer's "slip note" technique, lending it a warm and nostalgic country feeling. This took me back to warm summer evenings sitting on my grandmother's front porch, breathing deeply of the fragrances of her flower-filled garden glittering with fireflies. The mood shifts dramatically with "We Sit in Silence," a dark and dissonant utterance of melancholy and mourning. "Departure Gate, C17" is a stirring expression of the jumble of feelings a traveler experiences – excitement about the journey ahead suffused with sorrow over leaving loved ones behind.
Passionate and evocative, "Time Present, Time Past" is a delight from start to finish. Very highly recommended!