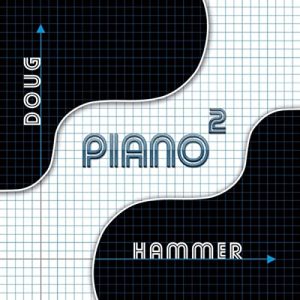 "Piano2" (actually "Piano Squared") is Doug Hammer's thirteenth release and arguably his most unique to date, as every performance on the album is a duet performed by Doug Hammer and…himself! Inspired by the free-wheeling improvisations that have become a tradition at the end of his solo piano concerts with other artists, Doug decided to try something new. As he explains, "I would work on an accompaniment first and then listen to that and record melodic ideas on another track. Then I would go back and refine the accompaniment and then again go back and refine the melody." Finally, Hammer recorded the individual parts, then mixed them together until they were flawlessly unified. Incorporating many music styles, including pop, jazz, funk, new age, classical, and Americana, this album features fifteen new, original compositions and is an absolute delight from start to finish.
"Shimmer in Disaster" has a light, jazzy feel, with a sparkling, improvisational primo cascading over a persistent, optimistic secondo. The title refers to the choice we all have to maintain a positive outlook even when faced with difficulty. One of my favorite pieces on the album, "You're the One" is simply gorgeous; I could easily imagine words sung to this soulful melody. "The Sunshine in You," another jazzy number, is a boisterous revelry; the mood shifts with "Across the Plains," a cinematic piece that brought to mind some of the beautiful vistas I have seen when traveling in the American West. The epic "Reaching for the Moon" begins rather quietly but quickly builds in a highly rhythmic, expansive, exuberant manner. It imparts the feeling that anything is possible before fading dreamily into the distance – another favorite. "Strut Your Stuff" is bluesy and syncopated and a perfect vehicle for Hammer's technical prowess. The piano rag "Chasin' Possum" is just plain fun! A real toe-tapper, it made me want to get up and jitterbug!
"A Rainy Night with You" is a tender love song; "The Uncertainty Principle," (which I assume is a contemplation of Heisenberg's Principle, an extension of how we see things) is dark and dramatic. "Round and Round" ebbs and flows, like winter into spring or dreams and ideas and is the perfect segue into the magnificent, awe-inspiring "Fanfare." "Celtic Heart" is a poignant ballad that literally brought tears to my eyes, and is followed by "Walking with You," another lilting ballad, expressing the peace and contentment experienced while strolling arm in arm with a sweetheart. "Shine Bright" is uplifting and encouraging, a gentle reminder to allow our inner selves to glow, thereby inspiring others to do the same. The impassioned "The Last Goodbye" brings this magnificent album to a powerful close.
I know it's early in the year but I am confident that "Piano2" is going to be one of my very favorite albums of 2020, and I give it my highest recommendation. Don't miss this one!