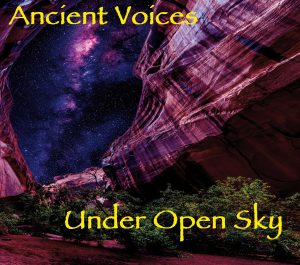 Award winning musicians Dan Kennedy and David Rose have been playing music together since 2015. Of Mexican/Indian and Native American heritage, U. S. Army and Navy veteran David Rose is well known on the festival and flute circle scene. Classically trained at Oberlin and New England conservatory, pianist Dan Kennedy has performed widely in the United States and Canada and his music has been heard on 250 radio stations, plus Pandora, Spotify, Music Choice, and Sirius XM.  "Under Open Sky" (release date February 1, 2020) is their debut album.
Like many of the pieces on the album, the opening track has popular appeal. The piece opens with a sweet flute melody that is soon joined by a gentle piano accompaniment. Although the title is "Autumn Lament," to me the piece is light and breezy as a warm day in late autumn, all sunshine and blue skies with a hint of burning leaves in the background and a sense that all is right with the world. "Northern Wedding" is a processional, a conversation between the flute and the piano, the tender piano interludes like sweet whispers of love. "Desert Snow" opens with the piano. The music is delicate and wispy, with spaces between the sounds. I remember reading about a 2018 snowfall in the Sahara Desert, one of the hottest places on the planet, which made for some ethereal photographs. This music – dreamy, mystical, other worldly – perfectly captures that phantasmagorical scenario. "Light at the End of the Tunnel" begins in an uneven meter but soon settles into a regular rhythm. It seems to describe the experience of successfully navigating through a time of trouble, starting with the haunting sounds of the flute and ending with a jubilant and joyful piano. The mood shifts with "Honey Bee." The piano opens with a rhythmic introduction and the music is syncopated and cheerful, reminiscent of the way bees dance to communicate information with one another.
"Venus" is a flute solo, haunting and echoey, a fitting nod to the earth's mysterious planetary neighbor. "Fences" is more angular, playful and hypnotic, alternating between major and minor. I found myself tapping my toes to this one! "In the Days of Old" is a piano solo, nostalgic and sentimental, beautifully expressing a yearning for the happiness experienced in times past. At seven minutes and thirty seconds, "Bloom Road Acoustic" is by far the longest piece on the album. A reworking of the title track of Kennedy's 2015 album "Bloom Road," which featured the addition of a number of additional instrumentalists. This pared down version strips the music down to its essence and is without question my favorite piece on the album.
In short, "Under Open Sky" is a real treat, and shows what wonderful things can happen when two incredibly talented musicians decide to join forces and create something beautiful together. Very highly recommended!