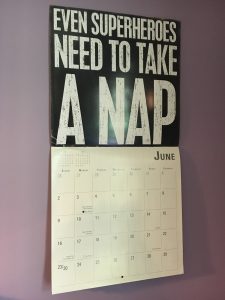 I have always felt that the end of each calendar year is a good time to reflect on the events of the previous twelve months and set goals for the 365 days ahead. But instead of making New Year's resolutions, I simply choose a word to serve as my compass for the year. And my word for 2020 is "nurture."
Over the course of 2019, I taught 1750+/- piano lessons, finished my tenure as Gwinnett County Music Teachers Association vice president and began my two-year term as president. My students made me proud with their performances in a number of local and regional events and in three studio recitals; I adjudicated for a handful of others, and I co-presented a program on the life and work of composer and pedagogue William Gillock at the Georgia Music Teachers State convention in November.
I composed/arranged/recorded 38 new pieces and released two albums and four singles over the course of the year. I performed at the Whisperings Discovery Concert in Atlanta in January, shared all the music from my album "The Presence of Wonder" in an April CD release concert, opened for Jim Chappell and Philip Wesley in September, played concerts alongside David Peoples and George Skaroulis, and performed in a score or so local and regional musicales and concerts. And my late 2018 release "Thankful Heart, Joyful Mind," was nominated Best Holiday Album by Enlightened Piano Radio, giving me the opportunity to travel to Montreal, Quebec, Canada, and perform in the EPR Awards Concert & Ceremony at the beautiful Place des Arts. (I won the award!)
I wrote reviews for 20 albums and 9 singles for fellow recording artists. And towards the end of a year, I began a new journey as pianist for Amazing Grace Lutheran Church in Lawrenceville, Georgia. Since I started there in November, I have played for the Thanksgiving service, three Advent services, two Christmas Eve services, and the annual Christmas cantata in additional to weekly Wednesday night choir rehearsals and two services every Sunday. I love my new church "family."
That's a lot of "doing." Which didn't leave much time for simply "being." Although I did finally allocate time and resources to take care of some routine maintenance – i.e, I made visits to the primary care physician, the gynecologist, the optometrist, the dentist, and had a mammogram – it is becoming increasingly obvious that my body is not a machine. And while I did enjoy one real vacation, going on a Caribbean cruise with my parents, my brother, and my youngest son in March, if I am honest with myself there wasn't much else in the way of "down time" over the past twelve months.
When my children were growing up, I did my best to meet the needs of their growing bodies and budding interests. I fed them healthful, nourishing meals; I saw to it that they got out in nature several times a week. I limited the time they spent in front of screens, read to them daily, and made sure they had plenty of time to pursue their passions, whether it was chasing butterflies or sculpting with clay or practicing the guitar. Don't we all deserve that kind of care?
Sometimes, when a piano student complains about having to practice, I jokingly say, "I wish I had somebody to cook for me and make me play the piano." Which brings me back to that word "nurture." If I am going to continue to teach and perform and create well into my later years, I'm going to have to do a better job of taking care of MYSELF. That means making better dietary choices, exercising regularly, putting down my phone and closing my laptop and digging into that pile of books next to my bed and spending more time playing with beads and yarn and experimenting with new sounds on the piano. In her book "The Artist's Way," Julia Cameron encourages us to schedule weekly "artist dates," solo expeditions in which we explore something of interest, "feeding our creative work by replenishing our inner well of images and inspiration." It's been a long time since I planned something just for fun, just for ME. Can I make it happen once a week? There's no harm in trying.
Whether you make resolutions, choose "one word," or simply went to bed early last night, I wish you a New Year filled with love, joy and light!