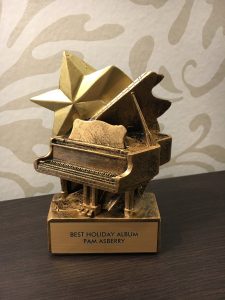 It's official: Thankful Heart, Joyful Mind was awarded Best Holiday Album 2019 by Enlightened Piano Radio! What a thrill it was to perform in the Cinquième Salle at the beautiful Place des Arts in Montréal, Québec, Canada! What a surprise it was to hear my name called as the winner in my category!
Other award recipients were as follows:
Best Solo Piano Album – Brian Kelly, Tomorrow's Daydream
Best Piano with Instrumentation Album –  Cathy Oakes, On the Other Side
Best New Artist – KeithTim Anderson, Waiting's End
Best Jazz Album – Eric Bikales, Follow Your Heart
Album of the Year – Dan Kennedy, Mountains Made of Shadow, Anthems Made of Light
Lifetime Achievement Award – Rebecca Harrold
Congratulations to all the nominees, finalists and performers! Special thanks to Donovan Johnson and Cathy Oakes, founders of EPR; Rebecca Harrold and Mark Pinkus for countless hours of preparation behind the scenes and for hosting the event; to everyone on the EPR board and to all the judges who voted; and to my parents, Jim and Carley Asberry, for all those years of piano lessons!