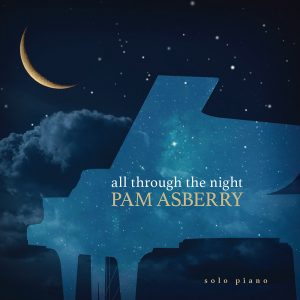 I spend the first three days of August at Piano Haven Studios in beautiful Sedona, Arizona (click HERE for the story) recording all the new music I have been working on over the past year. The first of three new albums is available for pre-order (click HERE) now! All Through the Night is a collection of original pieces combined with fresh arrangements of soothing classical works and calming traditional melodies from around the world, inspiring tranquility and restfulness for listeners of all ages.
And here's a sneak peek: Siciliano, the third track from the album, is now available on all platforms!
Siciliano is a solo piano arrangement of the second movement of the Sonata in E-flat major for flute or recorder and harpsichord, believed to have been composed by J. S. Bach. It is one of the most beautiful and intimate of Bach's works and I enjoyed creating this adaptation very much. For those of you who would like to trying playing it yourself, the companion sheet music is also available (click HERE).
Next week, two legendary solo piano artists, Jim Chappell and Philip Wesley, are kicking off a concert tour with a show in metro Atlanta on Wednesday evening, September 25th (click HERE for details and tickets). Although I have never had the pleasure of meeting Jim before, I have long been a fan of his music, and I am very much looking forward to hearing him and Philip perform. And rumor has it that I'll be playing a piece or two in the concert as well! Atlanta area friends, you DON'T want to miss this opportunity!
By the time you read this I will be on my way back from Montreal after performing at the beautiful Place des Arts in the 2019 Enlightened Piano Radio Awards Concert and Ceremony as a nominee for Best Holiday Album. Check back Monday for the results; meanwhile, let me know what you think about the new single!