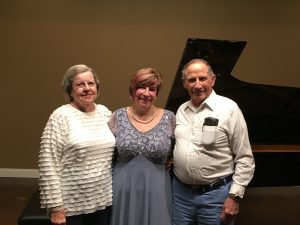 Meet my parents, Carley and Jim. That's us in the photo above, striking a pose at the conclusion of the release concert for my album Thankful Heart, Joyful Mind. My arrangement of the great Irving Berlin tune White Christmas – which just happens to be my mom's favorite Christmas song – appears on the album and is dedicated to her.
Not only am I grateful to Mom and Dad for all those years of piano lessons, I am also grateful that they exposed me to a wide variety of musical styles over the years. Their vinyl collection was eclectic, to say the least; there was Beethoven and Stravinsky, big band and jazz, soundtracks from the great musicals, and gospel quartets along with the likes of Elvis Presley, Dean Martin, Jim Nabors and Frank Sinatra. Both my parents took piano lessons as children and although they were too busy working and raising kids to spend much time at the piano as adults, I do have vivid memories of each of them picking out old favorites from time to time. Mom's go-to piece was the hymn What a Friend We Have in Jesus; Dad's was the haunting theme from the 1944 movie Laura, often described as one of the greatest movie themes ever written.
Dad will turn 84 on October 20th and I couldn't think of a better way to kick off his birthday month than with the release of my own version of Laura. Now available wherever you listen to digital music!
Spotify
Pandora
Apple Music
iTunes
Oh, and the sheet music is also available – right HERE.
Happy Birthday, Dad!