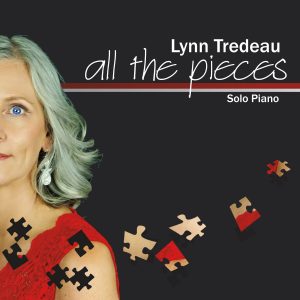 Lynn Tredeau released her first album in 2015; her fifth title, Fellowship of Solitude, was chosen as Best Solo Piano Album of 2018 by Zone Music Reporter. With her sixth album, All the Pieces, Lynn continues in the tradition of creating music that has been described as "eloquent, emotional and artistically clever." It is "a beautiful collection of puzzle pieces that musically fit together to make a whole, resembling the many pieces of one person's life."
The album opens with the heartbreaking Photos Without a Memory, which tells a tale of Alzheimer's disease. The ostinato left hand patterns put me in mind of Erik Satie; the melancholy, improvisational melody describes the experience of sorting through boxes filled with photographs of people and places that have been sadly forgotten. Love for a Lifetime is a poignant tribute to the special person that walks beside you on life's journey, sharing your dreams and sorrows and offering a safe place to be yourself. One Drop is an Ocean explores the delicate upper registers of piano, tinkling throughout like a gentle rainfall. All in One Place features a sparkling, upbeat melody over rolling left hand chord accompaniment and is followed by the tender and yearning 910 Taylor.
The brooding A Weathered Heart, with its haunting minor melody splashed with dissonance, describes the way experiences of great joy and deep sorrow leave impressions on the heart just as stones become worn and polished over time. The epic Sea of Amber alternates between two themes – one pensive and bucolic, the other glorious and sweeping – and is a favorite. Bohemian, with its mysterious Eastern European flair, is another favorite. Wilson's Pond expresses a childlike simplicity and innocence tinged with nostalgia and a subtle sadness. The jazzy Broken Pieces is followed by the sentimental Precious Handprints, its heartfelt melody singing over a simple left hand accompaniment. The album ends with the beautiful History Yet to Come, dark and solemn and emotionally fraught.
Of her composition, Lynn Tredeau says, "Just like most musicians, I compose from my heart and soul. Every song tells a story." And All the Pieces (scheduled for release October 18, 2019) is arguably her most intimate collection of musical stories to date. Recommended!