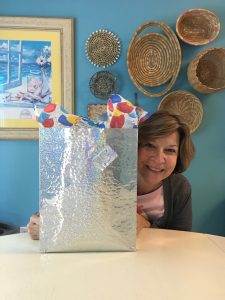 I kicked off my 60th birthday week with my parents and youngest son yesterday. I made all our family favorites for Sunday dinner – pulled pork loin, cheesy potatoes, and green beans with bacon – and afterwards there was cake, ice cream, and presents followed by a fiercely competitive game of Uno. (In typical fashion, I lost!)
I am aware that it is not polite to ask a woman her age, and that many women refuse to admit how old they are. While is true that we live in a youth-obsessed culture, and that getting older can trigger very real anxiety about sickness and death, there is a flip side to all that. With age has come a certain wisdom, rich experiences, an ever widening circle of loved ones, and a stronger sense of self than I ever thought possible. And what's the use of worrying about things that MIGHT happen down the road? So I am positively delighted to be turning 60, and I am not ashamed to admit my age. I feel great; I welcome each new day. Every sunrise, every breath, is a gift to be savored.
Be sure to come back on Thursday, August 15th – my actual birthday! – when I will release my brand-new solo piano single. It's my mom's favorite; she says it's the best piece I've ever written! I don't know about THAT, but I DO know that it's good fun, and you DON'T want to miss it!
See you then!