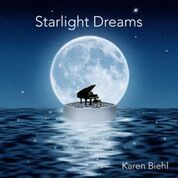 Classically trained vocalist, pianist and violinist Karen Biehl creates music she describes as "combining romantic classical lyricism with meditative empowerment to assist listeners in achieving an enhanced and peaceful sense of self-awareness and purposeful focus. Starlight Dreams, her first album of solo piano music, is a collection of powerful tone poems that might serve as background music for guided meditation but are strong enough to stand on their own as individual compositions.
The album opens with Awakenings, a stirring number which opens the listener to the spiritual musical journey ahead. Invocation is plaintive and questioning, like a heartfelt prayer, answered by the subsequent track, the fiery and passionate Union.
Meditation on a Moonlit Lake is peaceful and reflective, its left hand rippling like the surface of the water in the moonlight and right hand chords sparkling like stars in the night sky. The romantic Chanson des Vents put me in mind of a Chopin etude, a lyrical study in thirds. Stirring and intense, On Angel Wings is meant to depict the release of one's deepest desires to the universe.
The dark and stormy Raindrops is the perfect segue into the Starlight Waltz, a romantic dance, which is followed by Promenade, a tender walk home. Autumn Amble is quiet and thoughtful; The Beginning shares the joy at the prospect of realizing the dream of starting a new life although there is also a touch of sadness and a hint of regret. As a postlude, Meditation on a Moonlit Lake – Full Version is a lusciously orchestrated experience of its own and is my favorite track on the album.
With Starlight Dreams, Karen Biehl makes a graceful entrance into the genre of solo piano music. Recommended!