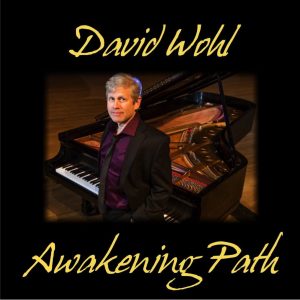 David Wohl culminates 25 years of experience in the music industry – as a performer, music director, composer, arranger, creative consultant, and music teacher – with his new release Awakening Path. In the artist's words, "AWAKENING PATH expresses the hopefulness, joy, and peace I feel whenever I create or perform a new piece of music. In rare moments, our hearts can find emotional clarity, and a new path awakens for us." This beautiful collection, a combination of solo piano and solo piano with orchestration, provides the listener with many such moments of clarity and awakening.
The opening track, Skylight, is a shimmering celebration of light, with sparkling arpeggios rippling up and down the keyboard. Awakening Path has a jazz vibe and is both lighthearted and optimistic. The tender "Her Smile" is a gentle waltz, romantic and tinged with longing. O Que Será is a solo piano rendition of O Que Será, the 1976 release by the Brazilian singer-songwriter Chico Buarque. Jazzy and improvisational, this catchy number will have you tapping your toes in no time.
A favorite, Healing Heart, is at times serene and soothing, at times soaring and buoyant. And If You Should Ask tickles the ear with the sparkling upper registers of the piano and reminded me of one of my favorite quotes: "If you don't ask, the answer is definitely no." Another favorite, Unstoppable, left me breathless. Recorded live, it is an energetic boogie-woogie with a relentless bass. The music literally goes nonstop from the first note until the final glissando flourish, earning enthusiastic applause (and likely a standing ovation) from the lucky audience members.
Expansive like vast grassy golden flatlands blowing in a soft breeze, Prairie took me back to a simpler place and time. Dark and Baroque is a fascinating exploration of the contrasts between light and dark. Although the essential texture of this piece is contrapuntal, like a Bach two-part invention, the music also wanders into impressionism, with open parallel right hand chords over a rich bass line, reminiscent of Debussy's The Sunken Cathedral. The album comes to a gentle conclusion with Kiss of the Moon, slow and solemn, like the last fleeting thoughts before sleep.
AWAKENING PATH will be a welcome addition to any solo piano lover's music library. Highly recommended!