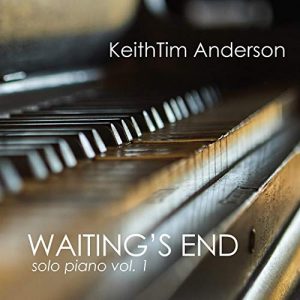 It is no surprise that KeithTim Anderson made a career out of music. He spent his childhood in a small town outside of Eau Claire, WI; his father was a junior high band instructor and his mother was his first piano teacher. Although he had a knack for improvisation and preferred improvising composition to practicing his assigned lessons, he dreamed of being a singer. After graduating from the University of Wisconsin-Eau Claire with an Education Degree in vocal music and a minor in piano, he took a position as choral music director while continuing to compose piano music and set Scripture and lyrics to music and achieved great success as a singer-songwriter. But following an unexpected a twist of fate, he has returned to the creating music for solo piano. In November 2017, he returned to Wisconsin to give a Thanksgiving concert at his parents' church, but lost his voice due to laryngitis. Unable to sing, he played these two solo piano pieces he had recently composed on a whim as part of a short concert. They very well received as were a couple of follow-up pieces he shared on social media, which led him to focus on creating a solo piano album. Waiting's End, Solo Piano Volume 1, Anderson's debut solo piano album, is the delightful result.
"The album has an overall concept of being healing, calming and reflective music," says Anderson, "yet in some ways, it is a collection of musical snapshots, each song being distinct from the others, yet cohesive as a whole." The album opens with the contemplative Autumn Rain, its gentle pitter-patter almost melancholy, anticipating the long winter ahead. Here with You is peppered with a rhythmic motive like a syncopated heartbeat, steady and reassuring. One of my favorites, the haunting Hope Again, has a modal, open sound and is a musical expression of the question how do we dare to hope again when we didn't get the ending we wanted the first time. Last Goodbye, written with his longtime co-writer, songwriter Heather Field, is elegant yet tinged with sadness.
Long Ago expresses a deep yearning for a return to happy times that have long since passed;  captures the rush of emotions I experience whenever I sift through old photos – a combination of happiness and heartache, with a strong feeling in the end that the best is not in the past but is yet to be. Remember When is tender with a certain innocence; it put me in mind of the conversations my brother and I have in which we share our reminiscences of growing up. Rest Awhile is a melodic invitation to quiet the noise of the to-dos and simply REST – deep, glorious rest which most of us do not get enough of!
Things don't always make sense in the moment but looking back we can often see that circumstances that seemed bad often turn out for our good and Someday paints that picture beautifully. The title Somewhere Out There made me think of the old song by Linda Rondstadt and James Ingram and expresses the hope people who are meant to be together will find each other. The album comes to a close with the title track Waiting's End and the exhilaration felt when a long period of delay is over and a situation is satisfactorily resolved.
KeithTim Anderson's Waiting's End is a beautiful addition to the world of solo piano. Highly recommended! I can hardly wait for Volume 2!