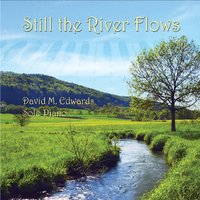 David Edwards's musical journey has been filled with twists and turns. He began piano lessons at age 12, studied classical piano and jazz theory at the University of North Texas, and over the course of his career he been a composer of commercial tunes, a salesman at a large music store, and a performer with successful regional country bands. But years of a grueling performance schedule combined with heavy computer use led to serious injury that prevented him from playing the piano for many years. Thankfully, a meeting with classical pianist Leon Fleischer, who has suffered with similar hand problems, inspired David to take healing measures that finally allowed him to resume playing. His first two albums were explorations of all the various types of music that influenced his career, classical, folk, rock and jazz; now, with the release of his third album, Still the River Flows, Dave has settled into a musical style that is uniquely his own.
The fourteen pieces on this album move through what the composer describes as "a life compressed into one day," slowly building in energy until noontime, then gradually winding down to a quiet evening. The opener, Morning Song, is exuberant, and put me in mind of that satisfying full-body stretch when I first climb out of bed at the beginning of a new day and that feeling of hopefulness and optimism that accompanies it. Summer Dance is lively and syncopated, rather jazzy with a devil-may-care attitude. Still the River Flows is a change of pace, as it gently wanders, serene and calming. Just a Simple Song is rather melancholy yet one of my favorite pieces on the album – its beautiful melody could easily accommodate lyrics – and is followed by another favorite, the plaintive and soul-stirring For a Long, Long Time.
Nineteen in 69 is a poignant reflection on times past, with elements of both joy and regret; On a Cloudy Day is quiet and restful, almost a meditation. The mood shifts abruptly in Take Me With You, sparkling with anticipation and exhilaration and another favorite. The day begins to wind down with Evening Song, a needed respite on the heels of the previous frenzy as the shadows of twilight begin to fall. Wistfully is delicate and dreamy, as if lost in thought; in the evocative I Remember That, a musical motive is stated and restated like flashbacks of memory. Wherever You Are is a love song, both nostalgic and yearning; Walking by the Shore put me in mind of a quiet stroll with a loved one, sharing the events of the day; its gentle melody laps like gentle waves on the shore. Won't You Stay brings the album to a heartfelt close. Like a day so perfect I can hardly wait for the new dawn to arrive, this album makes me look forward to the composer's future releases. With Still the River Flows, David Edwards has truly hit his stride. Highly recommended!