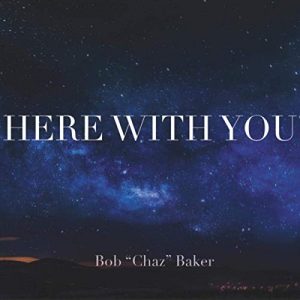 Former jazz trombone player turned keyboard rock musician, Bob Chaz Baker has performed and recorded with the likes of Tommy Shaw, Dan Fogelberg, Mark Andes, Larry Stewart, and Rosemary Butler. Now composing, recording and concertizing as a solo pianist, Bob has released a new album, "Here With You."
Influenced by a variety of musical genres, his Filipino/Irish background, as well as his experience in classical, jazz, rock and gospel, Baker's music is beautifully crafted and artistically performed. This album is a delight from start to finish.
The collection opens with the title track "Here With You." This gorgeous creation is ebullient, flowing and expansive. As I listened to "Through My Window," I closed my eyes and imagined gazing through a pane of glass on a gorgeous summer day. What a glorious view! The music turns darker with the contemplative "Just Once," which explores the lower regions of the piano. "The Traveler" has a Celtic flavor and tells the musical tale of a journey to a distant place and all the joys and wonders discovered there. "Waltz for Deborah" is a romantic dance; "Devotion Amazing Grace" is in the style of an African American spiritual and is one of my favorite renditions ever of the enduring hymn.
The soaring "Wings" resonated deeply within me, reminding me to find my wings, feel my freedom, and fly high. "You Are Loved" is built from a memorable three-note motive, which echoes the title of the piece. "Infinity Turn" is another stunning waltz, spinning round and round like the mathematical symbol for infinity. The poignant "First Love" is a musical memory of a special person from long ago, never quite forgotten, and brings the album to a perfect conclusion.
Every track on this album is a winner. Highly recommended!