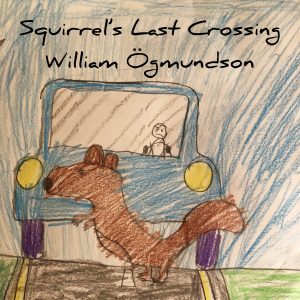 "Squirrel's Last Crossing" is only forty seconds in length but what a vivid story it tells! In my imagination, it goes something like this:
Once upon a time, there was a little brown squirrel. Out of nowhere, he found himself in the path of a very large, very fast motor vehicle. A human was behind the wheel, making angry faces and loud honking sounds. The squirrel made it to safety and scampered merrily to and fro, searching for nuts to bury and bird feeders to raid and other furry friends to play with. Nearing the end of the day, as he ran back across the street towards his home, he crossed paths again with the big speeding car. But this time…
No spoilers here! But pianist William Ogmundson's dissonant ending leaves little doubt as to the fate of our friend the squirrel. (And I am almost ashamed to admit that I laughed so hard there were tears in my eyes!)
This piece is spirited and catchy and just plain fun to listen to. Very highly recommended!