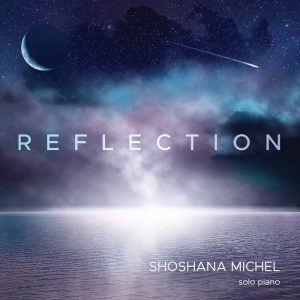 Reflection is Shoshana Michel's fourth released piano solo album and her third as a composer. The positive response to the release of her first album, Soul Whispers, her solo piano arrangements of beautiful songs of Jewish Eastern European origin, led her to resume the challenge of composing; in 2016, a full twenty-four years after she wrote her first solo piano piece for a student who shared her love of New Age Music, she released an album of original pieces, Dancing on the Wind, which was nominated for numerous awards. Her 2017 release, Prelude to a Dream, won One World Music Radio's Solo Piano Album of the Year; her latest release, Reflection, was born out of the experience of finding herself as a composer and facing life's challenges. Recorded and engineered by Joe Bongiorno at Piano Haven Studios and featuring beautiful cover artwork by Matt Strieby, this is arguably Shoshana's best work to date.
A New Day Today is a cheerful and buoyant opening to the album, a beautiful expression of the hope that each new day brings. Shooting Stars is more solemn and almost hypnotic and seems to express the childlike wonder at the astral phenomenon and the belief that making a wish on a shooting star can make it come true. Finding Bliss sparkles with quiet joy, and articulates a sense of contentment and wellbeing. Soothing the Tempest Within is a luscious romantic piece reminiscent of the music of Chopin and communicates the grappling with inner demons that is a part of the human experience. Bittersweet is poignant and soul stirring, with a melody that is both melancholy and achingly beautiful; Island in the Mist is an impressionistic sound painting. The haunting The Moon's Lament personifies the moon, imagining it looking down at the earth with sorrow at the sight of all the natural disasters, pain and suffering happening on the planet. In a Time Lapse presents alternating musical ideas – sometimes calm and soothing, sometimes dissonant and jarring, sometimes dark and brooding. Forever and a Day breathlessly anticipates a special event; Labyrinth features a sinuous melody with surprising twists and turns. Through the Eyes of a Child brings the album to a cheerful conclusion.
The combination of evocative composition and artistic execution make this album a delight from start to finish. Very highly recommended!