The annual Whisperings Solo Piano Artists weekend took place February 8-10 in Atlanta, Georgia. Lucky me! I got to hang out with 52 other artists from all around the world, sit in on two informative workshops, and attend two amazing concerts. Best of all, as a new artist, I was invited to perform in the Whisperings Discovery Concert at PianoWorks on Saturday, February 9th.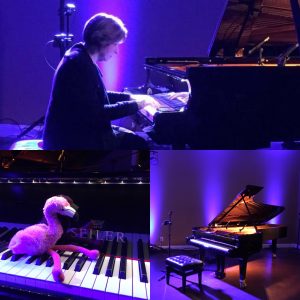 Instructed to choose from among the pieces that are streaming on Whisperings Solo Piano, I decided to go with Moonlight over Moorea. The concert was broadcast live on Facebook; click HERE to watch (my number starts about 46 seconds in). What a thrill it was to share the stage with other new artists such as myself as well as established artists such as Michele McLaughlin, Tim Neumark, Doug Hammer, and Chad Lawson – pianists whose concerts I have attended as a fan, never dreaming I would one day be composing my own music and have the opportunity to share it in a concert alongside them!
Now I'm working hard to get everything in place for the release of my new album of original solo piano music, The Presence of Wonder, on April 12th (pre-orders will begin on March 15th). This album is a musical celebration of the infinite wonders that exist in both the physical and spiritual realms; because the music is so special to me, I decided to work with an expert (thank you, Alex Carter of A Carter Production!) to create a series of beautiful sampler videos to share with my listeners leading up to the album release date. The first is the title track, The Presence of Wonder; click HERE to watch, then please take a moment to subscribe to my YouTube channel. I will be sharing a lot of new content there over the weeks and months ahead and I don't want you to miss a thing!
I would love to hear your thoughts about my new music! You are welcome to leave a comment here or contact me HERE. There's nothing I enjoy more than hearing from my listeners!