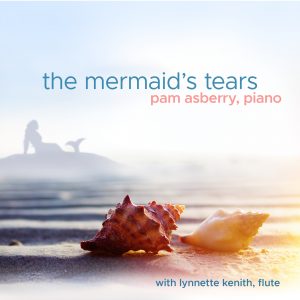 I am so excited about this weekend I can hardly sit still long enough to tell you about it!
1. My new single "The Mermaid's Tears" is available for purchase TODAY! This track first appeared as a piano solo on my debut album "Seashells in My Pocket"; this version features the addition of the amazing Lynnette Kenith on flute. When I originally composed the piece I "heard" it opening and closing with a flute solo so this is the realization of that vision. I am so pleased with the way it turned out and I just KNOW you are going to love it! You can download the track from my website (click HERE); you can also find it at CD Baby, iTunes, Amazon and Spotify. (And to read Steve Sheppard's review, click HERE!)
2. This weekend's concert will be broadcast live online! This Saturday, February 9th, I'll be performing in the 2019 Whisperings Solo Piano Discover Concert along with other solo piano artists from around the world. I know that some of you were lucky enough to get tickets to this sold-out event! But if you didn't, you will be happy to know that this concert is also being broadcast live on Facebook. The live video broadcast will be happening THIS SATURDAY, FEBRUARY 9th at 7:00 PM EST. Here is the link to the Facebook page where you can view the concert: https://www.facebook.com/whisperings. The broadcast is FREE but you can TIP during the broadcast using the website "tip jar" to help support the artists who are performing. We would LOVE to have you celebrate with us! Join us from wherever you're at!
As always, thank you from the bottom of my heart for listening to my music!