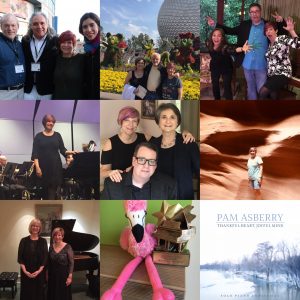 Although I'm not one to make New Year's resolutions, I do believe that the end of each calendar year is a good time to reflect on the events of the previous twelve months and set goals for the 365 days ahead.
2018 was an AMAZING year. I attended my very first Whisperings artist gathering in Seattle, my very first CD Baby conference in Nashville, and the Enlightened Piano Radio Awards Concert in Berlin, Germany, where I had the privilege of performing at the beautiful Berlin Philharmonie and being awarded 2018 Best New Artist. I played more concerts as a soloist than I can count on two hands, I played three concerts with the Gwinnett Symphony Wind Orchestra, and I joined forces with Kristi Helfen as a duo pianist, performing at Atlanta's Spivey Hall and playing a challenging full-length duo piano concert at PianoWorks in Duluth, Georgia. I attended the MTNA National Conference in Orlando, Florida in March and the GMTA State Conference in November, where I received one of three MTNA Teacher Enrichment Grants for composition. I traveled to Piano Haven Studios in Sedona, Arizona in August, where I recorded two solo piano albums and two singles – 27 new pieces in all – and released the first, a collection of holiday arrangements, in October.
And I adopted a rescue dog. Bingo is his name-o.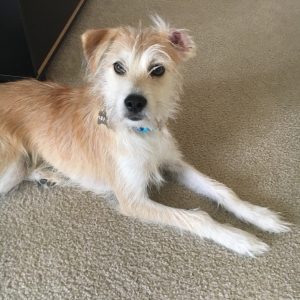 It's going to be hard to top all of that. But I'm going to give it my best shot.
My intention is to keep on keeping on with my teaching, composing, and recording. There will be singles releases, a new album release, and new music created and recorded. Click HERE to subscribe to my newsletter and be the first to hear about all of it! But the past couple of years I have been so focused on my music that I have paid little attention to other important aspects of my life, namely my home and my health. My house is in serious need of repairs and maintenance; meals are poorly planned and regular exercise has fallen by the wayside. So I have determined to devise and implement a plan for making the required home improvements and get back into a routine of healthy eating and daily walking. But instead of making New Year's resolutions, I simply choose a word to serve as my compass for the year. And my word for 2019 is rejuvenate.
REJUVENATE (verb): make (someone or something) look or feel younger, fresher, or more lively.
It's all a matter of prioritizing and that's easier said than done when EVERYTHING seems to be terribly important. So in 2019, I am going to say NO to everything that is time-wasting, energy-draining, and nonessential and YES to everything that brings me true satisfaction, improved health and closer to the fruition of my dreams.
Feel free to leave a comment and share your successes in 2018 and your goals for the New Year!