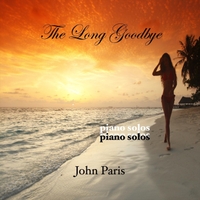 Inspired by his own personal experiences as a caretaker for his wife, who suffers from dementia, The Long Goodbye is composer and pianist John Paris's intensely personal and excruciatingly beautiful musical tribute to caregivers everywhere. As he searched for ways to keep his beloved companion's life as peaceful as possible, melodies occurred to him; these were eventually turned into the fourteen pieces on this album. Sensitively and artistically performed, the music is varied and interesting, emotional and heartfelt, rich and rewarding.
The title track, The Long Goodbye opens with somber, unpredictable bass that is joined first by an ostinato broken chord accompaniment and then a solemn melody punctuated throughout by flashing right hand arpeggios. There is a contrasting middle section in which the melody becomes more upbeat but then the darkness returns. Heart of Gold features pulsing left hand chords topped by a gorgeous melody and put me in mind of a wedding processional. Eternal Night, a sound painting of the night sky, its background splashed with melodic bits of shooting stars and constellations, is a favorite. There Was a Time is a moving, lyrical ballad; I could imagine words sung along to this tune, a poignant musing on better days. Everywhere That I Look begins as a tender waltz, becomes downright festive in the syncopated section middle section, but ends quietly.
As Paris says in the liner notes for the album, "There is an exquisite beauty in the pain born from the deep abiding love for this wounded angel" and the next piece, Wounded Angel, reflects both deep affection and profound melancholy. Wings of Love opens with fluttering chords and seemed like a companion piece to Wounded Angel, ending with an anguished resignation. Surrender is a solemn expression of the inner peace experienced when one chooses to stop raging against circumstances beyond his control. The flowing and expansive Sweet Love is a musical depiction of a great love that transcends emotion and survives even the most horrific of challenges and is another favorite.
Portending has a jazzy feel, snippets of sound perhaps representing early signs of the onset of an illness and the complex and varied emotional responses to that evidence. The flowing River of Life brought to mind a favorite quote from Marcus Aurelius that seems to fit with the theme of the album: "Repeatedly dwell on the swiftness of the passage and departure of things that are and of things that come to be. For substance is like a river in perpetual flux, its activities are in continuous changes, and its causes in myriad varieties, and there is scarce anything which stands still, even what is near at hand; dwell, too, on the infinite gulf of the past and the future, in which all things vanish away." Similarly, Long Ago and Far Away ebbs and flows in a vivid reflection on bitter-sweet memories of a life together that is gone forever and is followed by the tenderhearted Vaize D'Amour. The final track, Going Home, is buoyant and hope-filled, perhaps in anticipation of the time when illness and suffering will end and lovers will be reunited.
In The Long Goodbye, John Paris has created a stirring blend of love and longing, despair and hope, regret and joy. Very highly recommended!