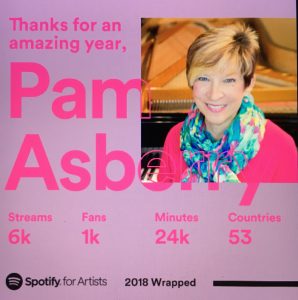 Thanks to the support of friends and fans, my music was streamed by 1000 fans in 53 countries in 2018. At the conclusion of my first full year as a solo piano artist, I couldn't be more pleased! If you aren't already following me on Spotify, click HERE. I am already looking forward to 2019 and I can tell you this right now: I will have LOTS of new music to share! And as a newsletter subscriber, you can be among the FIRST to hear about new releases; click HERE to sign up.
I am also over the moon to announce that my music is now streaming on Pandora! To find Seashells in My Pocket, click HERE; to find Thankful Heart, Joyful Mind, click HERE. I hope you will create a Pam Asberry station and add my music to your playlists there; that helps indie artists like myself more than you can imagine!
Finally, a reminder about the THREE concerts I will be playing at the end of this week (and you don't even have to leave home to attend two of them!)
On Thursday, December 20th at 7PM Central Time the legendary Eric Bikales and I will play a FREE concert at Miller Piano Specialists in Franklin, Tennessee for The River of Calm. Even if you aren't able attend in person, you are invited to join the live stream event on Facebook. Just click HERE to follow The River of Calm and join in on Thursday, December 20th at 7PM Central Time. Eric and I are very much looking forward to sharing our music with you; we even have a surprise or two up our sleeves! 'Tis the season!
On Friday, December 21st at 7PM Central Time I will join Cathy Oakes in a wonderful night of holiday (and other) music, refreshments and holiday cheer at her beautiful home in Columbia, Tennessee. For more details, click HERE; to RSVP, just email Cathy at cathyroakes@hotmail.com.
On Saturday, December 22nd, all of us at Enlightened Piano Radio invite you to enjoy the upcoming December Holidays Edition release of our official playlist on Spotify. The current playlist will be replaced with holiday tracks and we will stream live videos directly from this event page throughout the day, performing our compositions and arrangements for you to watch and listen. Cathy and I are scheduled for 11:30 Eastern Time/10:30 Central Time. Click HERE for more information and to join the festivities!
Only eight more days until Christmas! Enjoy every second of every one!