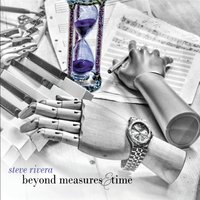 Beyond Measures and Time is solo pianist Steve Rivera's second release. Like his critically acclaimed debut album Dividing the Darkness, it was recorded at the legendary Imaginary Roads Studios and produced by Will Ackerman. The remarkable cover art (concept by Steve Rivera, photography by Scott Shelly, design and layout by Matt Strieby of Newleaf Design) perfectly sets the mood for the music inside. Introspective, shadowy and often dreamlike, this collection of intimate piano solos offers its listeners a glimpse into the mind and heart of a gifted and insightful composer and performer.
Suspended Dream makes use of the suspended chord, its lack of a third creating an open sound, the dissonance between the fourth and fifth creating tension. Passing Shadows is darker and more pensive, but flashes of light begin to flicker through as the piece reaches its inconclusive end. Unlocking the Moments begins quietly and thoughtfully but grows more epic and expansive in the middle before briefly returning to the opening theme. Spectrum of Thoughts is a great favorite, with contrasting melodies tossing back and forth like the thoughts that flit through our minds over a rich syncopated left hand accompaniment.
The expressive Falling Closer opens with a warm, lyrical melody followed by a beautiful second theme that grows increasingly passionate and dramatic then ends with a brief return to the first theme. Like the soundtrack to a great love story, this piece explores the full sonic range of the piano and is my favorite on the album. The meandering In My Own Memories is followed by Waves and Particles and is a reflection on the complex quantum physics topic of wave/particle duality. Listening, I could almost see particles of dust sparkling like glitter in a ray of light.
From the Beginning is composed in the minimalist style, its repetitive left hand pattern and pulsing tempo reminding me of the ticking of a clock, eventually fading away to nothingness. Dark Tides features a poignant melody supported by rich bass arpeggios that flow like ocean waves. Another favorite, Fragmented Dreams is slow and mysterious, successive melodic ideas interrupting or overlapping previous ones in a most interesting fashion. The title track, Measures & Time, is another treasure, both transcendent and hypnotic and bringing the album to a spellbinding end.
With Beyond Measures and Time, Steve Rivera has created an album that is both thought provoking and relaxing. Highly recommended!