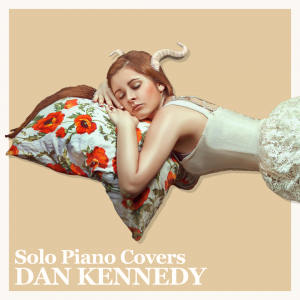 Since he began writing solo piano music since the 1980's, composer and pianist Dan Kennedy has developed a distinctive voice in the industry. His fourth solo piano album, "Mountains Made of Shadow, Anthems Made of Light" won the coveted Album of the Year award at Enlightened Piano Radio in 2019 and spent seven months on the Zone Music Reporter Top 100 chart. His latest release, "Solo Piano Covers" (scheduled for release November 19, 2021) is his first album of cover tunes, personally selected by the artist and rendered in a classical crossover style. While his classical training is evident in these interpretations, the use of Floyd Cramer's "slip note style" and elements of blues and jazz work in combination to bring Dan Kennedy's signature sound to these unique and effective arrangements.
The album opens with a favorite song of mine, "A Thousand Years" (Christina Perri). This plaintive, poignant melody needs little in the way of embellishment and is simply but beautifully accompanied. Next is "With or Without You" (U2). The lyrics of the song describe a difficult romantic relationship, but with its catchy bass ostinato rhythm and soaring improvisations, this music is a joyful toe tapper. I enjoyed Kennedy's take on "Time After Time" (Cyndi Lauper) very much; while the original was strict tempo wise, Kennedy went for a more rubato interpretation, bringing out the raw beauty of the musical phrases. Another favorite, "Angel" (Sarah McLachlan), composed in mourning for the tragic death of the Smashing Pumpkins' touring keyboard player Jonathan Melvoin from a heroin overdose, is beautifully arranged here, played in the dark lower to middle registers of the piano and thickly textured, an effective articulation of the sorrow brought on by a life ended too soon.
"Always on My Mind" (Willie Nelson) is a simple and heartfelt expression of romantic love;
"Hold Me Now" (Thompson Twins) departs from the tone of the original pop new age hit, and its improvisational style put me in mind of the music of George Winston. "Two of Us" (The Beatles) captures the sweet joy of leaving daily cares behind and enjoying life's simple pleasures. "We'll Be a Dream" (We the Kings feat. Demi Lovato) was a new song to me, both a sparkling reminiscence about days gone and youthful exuberance combined hints of both regret and triumph. "If Not Now" is a moving rendition of the beloved Tracy Chapman tune; a stirring performance of the well-known Irish ballad "The Wearing of the Green" brings the album to a spirited close. While I am a big fan of Kennedy's original solo piano pieces, I enjoyed hearing these cover songs very much, and look forward to listening to them again. Highly recommended for pop music and solo piano lovers of all ages!