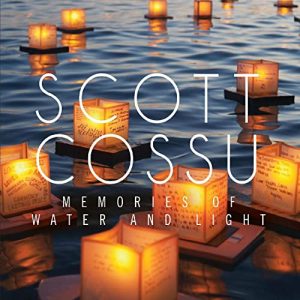 Based in Olympia, Washington, award-winning pianist and composer Scott Cossu has been performing worldwide since 1980 and was one of the first artists to join the Windham Hill label; "Memories of Water and Light," a collection of compositions that, according to the album liner notes, "represent water, light and the love for those past and present," is his sixteenth release. With Cossu on the piano, Van Manakas on guitar, and Holly Reeves on cello, this music at once introspective, heartfelt, and inspirational.
The first track, "Wedding Lanterns," was written for the wedding of Cossu's daughter Jenny to husband Danny (the couple used luminary lanterns at their celebration). The soaring opening melody is a tender expression of the hope and love that a father has for his child, and alternates with beautiful conversation between the piano and the guitar. Stunning! Next comes the title track, "Memories of Water and Light." Complex, richly textured and stirring, this piece is a favorite. "Cerulean Eyes" is a love song written in celebration of the beautiful eyes of Cossu's partner and wife and is an evocative sonic exploration of that remarkable shade of blue somewhere between azure and deep cyan. "Follow Your Heart" is a thoughtful ballad, perfect closing the eyes and letting the mind wander. Lyrical and emotive, "Here with You" is a plaintive, almost raw, expression of the vulnerability that goes with being in a fully invested relationship and is another favorite.
The Hawaiian name "Makena" means "abundance," and the track bearing this title is an outpouring of gratitude; the piano, guitar and cello work together in a seamless blend. Then in "Luminoso," each instrument finds a way to create sound like splashes of light: rippling arpeggios on the piano, flowing melodies on the cello, virtuoso passages on the guitar. "Ascending Angels," written in memory of beloved friends and musicians that have passed away, is a requiem of sorts, solemn and hopeful. "Lucid Watercolors" is gentle and meandering; "Last Snow" is a bit darker but paints a vivid picture of the hush that envelops the world after a snowfall.
Restorative, invigorating, and masterfully performed, "Memories of Water and Light" is a delight from start to finish. Very highly recommended!