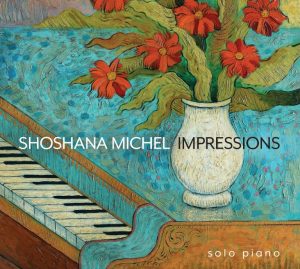 Shoshana Michel's fifth album, "Impressions," features thirteen original solo piano compositions and is arguably Shoshana's most intimate collection to date. Recorded and engineered by Joe Bongiorno, the piano sound is exquisite; the beautiful cover art, reminiscent of a Van Gogh painting, is also quite striking. And without exception, every performance is flawless.
The opening track, "Imagination" is almost a stream of consciousness; somber and unrestrained, it perfectly sets the stage for the array of sounds to follow. "Dancing in the Shadows" evokes innocence and purity; raw and emotional, it seems to come from a place deep within the artist. "Quietly, Gentle, Peacefully" is warm and tender, reminiscent of a winter evening spent in front of the fireplace, staring into the flames with contentment. "Loneliness" put me in mind of a Chopin prelude; it begins with a plaintive melody over a simple chordal accompaniment, then segues into a more expansive middle section before the opening melody returns.
The mood shifts abruptly with "Joyful Moments," a happy-go-lucky frolic across the piano keyboard. Listening to "Pierrot," one can almost imagine the elegant clown from French pantomime standing behind a velvet curtain waiting to go onstage at the theatre. Containing elements of both yearning and nostalgia, "Prelude in E minor" is like a Bach prelude with a romantic twist. Profound in its simplicity, "In My Dreams" features a wistful melody accompanied by broken chords in the left hand. "Nocturne in E-flat" might have been inspired by the music of Chopin; this one is pensive and dreamy and evocative of nighttime.
"Summer into Fall" is a musical depiction shifting of the seasons, capturing all the joy of an Indian summer day yet tinged with sadness at the knowledge that winter is coming. Restless and passionate, "Yearning" is a passionate expression of the desires of the heart we all experience from time to time. "Elegy," a sorrowful expression of loss, is followed by "Long Ago and Far Away," bringing this lovely album to a delightful conclusion and left me with that feeling of "happily ever after."
"Impressions" is a timeless collection, tapping into our shared emotions and experiences, and is one I will listen to again and again. Very highly recommended!