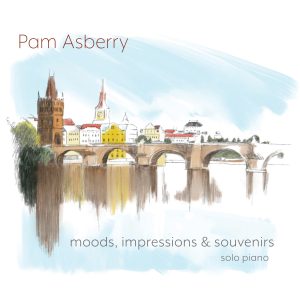 It's a crazy time to be releasing a new album, for sure, but after much consideration I decided to proceed as planned. Music is a great source of comfort to me right now, and I sincerely hope that this collection will be the same for others. Click HERE to purchase the CD; available also for download and streaming on all major platforms. Downloadable individual sheet music PDF's are available HERE; the full sheet music book is coming soon!
The reviews are starting to come in and I couldn't be happier! BT Fasmer of New Age Music Guide says, "Pam Asberry has delivered a phenomenal album, proving yet again that she is one of this genres' finest solo piano artists. Moods, Impressions & Souvenirs is easily one of 2020's best Solo Piano releases. Bravo!" And Kathy Parsons of  Mainly Piano says, "All four of [Pam's] previous releases were excellent, but I really think Moods, Impressions & Souvenirs is her best work to date…Don't miss this one!"
Moods, Impressions & Souvenirs pays homage to the Czech composer Zdeněk Fibich (1850-1900), a contemporary of Antonín Dvořák and Bedřich Smetana. During that time, Czech nationalism was at its height of popularity; however, Fibich, who was heavily influenced by the music of Weber, Mendelssohn, Schumann and Wagner, composed more in the style of the German Romantics. This, combined with some scandalous personal decisions he made towards the end of his life, caused him to fall from favor, and after his untimely death at the age of fifty his music was all but forgotten. Happily, in recent years there has been a revival of interest in his work, which has utterly captured my imagination. Along with symphonies, chamber music, and operas, Fibich wrote extensively for the piano, including a collection of nearly four hundred pieces – a musical diary of sorts – that he called Moods, Impressions & Souvenirs. The eleven pieces on my album bearing the same title were inspired by my own travel, memories, and feelings, and are composed in a variety of styles.
Here's the track list:
1. Praha Fantasy
2. Swimming with Stingrays
3. The Astronomical Clock
4. Adagio
5. Reminiscence
6. Cry from Lamanai
7. Floating
8. A Walk Across the Charles Bridge
9. Reverie
10. October in Paris
11. White Poppy
Over the next couple of weeks, I will share the stories behind some of the pieces on the album, so please check back often. Meanwhile, I would love to hear your thoughts about the music! Thank you for listening!