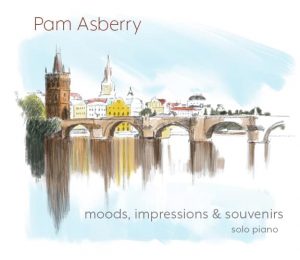 My new album, "Moods, Impressions & Souvenirs," is NOW AVAILABLE FOR PRE-ORDER.
Bandcamp
Amazon
Apple Music
It is also available to PRE-SAVE ON SPOTIFY (just two clicks!)
It's a crazy time to be releasing new music. But every stream, every digital download, every CD and sheet music sale makes it possible for me to continue doing what I love best: creating new music and putting it out into the world. And here's the thing: the more pre-orders and pre-saves I am able to log with Bandcamp, Amazon, Apple Music, and Spotify, the more impact the release will have, because all those "advanced sales/stream numbers" land on the album release date!
A large number of pre-orders would give me a rare opportunity to chart very high on not only Amazon and Apple Music but ALSO in Billboard Magazine for the album debut! And if I can drum up several hundred pre-saves, Spotify will view the album as significant, which will encourage them to further give it further exposure by adding songs from the album onto potentially tens of thousands of listeners feeds. Just ONE placement by Spotify's playlist editors could literally put my music in the ears of several million people; that could have a ripple effect on ALL my other promotional efforts. Touring, of course, is out of the question right now, but pre-orders and pre-saves would really help pick up the slack, and YOU can be a part of making that all happen!
I have ONE more favor to ask of you. I would greatly appreciate you taking the time to help me get "The Presence of Wonder" nominated for Best Solo Piano Album at Enlightened Piano Radio! The process is a little different this year. Here are the steps:
1) Click HERE, which will take you to the nominations page. You will need to enter your email address and click "ADD NOMINATION".
2) A confirmation link will be sent to the provided email address. You MUST click on the confirmation link or the nomination WILL NOT COUNT!
3) After clicking on the link, you will be taken back to the nominations page where it will say, "Thank you! Your nomination has been confirmed!"
Thank you, THANK YOU for your support! My thoughts and prayers are with you and your loved ones during these challenging times. Music might just be the thing that gets us all through.