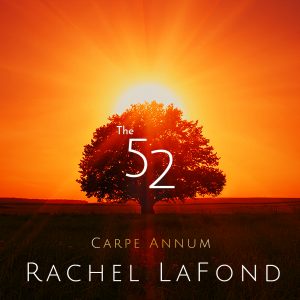 Composer and pianist Rachel LaFond has challenged herself to release one new piece every week for a year. This project, aptly titled "The 52," began on March 4, 2019 with the release of "She Dreams in Flight;" new music comes out every Monday. LaFond's goal was to find new ways to think "outside the box" and to experiment with a wide variety of musical styles and forms. The result has been an exciting series of firsts: her first cover songs, her first improvised songs, her first interpretations of a classical piece, her first multi-instrumental pieces, and numerous collaborations with other artists. Not surprisingly, LaFond has discovered that she has experienced personal growth as a result of exploring so many different moods, energy levels and types of music. Each piece is released along with its back story as well as custom artwork created by the artist herself with the number of the piece hidden somewhere in the design.
It is hard to do justice to such an ambitious project in a short review, but here is a small sampling of some of the treasures to be found in "The 52."
"Just Beyond the Horizon" (#25) is a composition for piano and cello and LaFond's first piece for that particular combination. A fan favorite, the music is a "soulful, sweeping, and epic" exchange. It begins slowly and softly, the sparkling sound of the piano in the upper register contrasting magnificently with the rich, warm tones of the cello, builds in intensity to a stirring climax, and then fades away, ending as it began.
Calming and contemplative, "Evanescent" (#27) was written in collaboration with flutist Al Jewer and is a uniquely woven texture of sound: piano, silver flute, Native American flute, and a gossamer "flute cloud" (six flutes played at once and specially mixed) in the middle. The effect is pure magic!
"Confluence (Ignite Saga, Mvmt. 1)"(#22) is the first movement of a three-movement work that describes the experience of falling in love. (To find out how the story ends, you'll have to listen to the second and third movements, releases #23 and #24)!
One of my favorite releases in the project is "Stormstruck "(#26), a dynamic duet composed and performed in collaboration with pianist and composer Scott D. Davis. Although the two artists have dramatically different performance styles, the result of this experiment is truly breathtaking. Described as "metal-esque," this breathtaking piece utilizes a number of contemporary piano performance techniques such as plucking the strings and felting the strings to create unique sonic effects.
"The 52" is distributed on all major platforms, although there are no plans for physical media, such as CD's, to be produced at this time. Recommended!