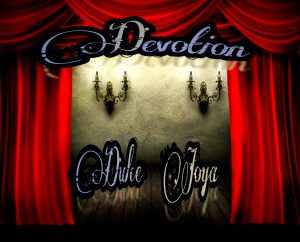 Classically trained from the age of six, Cuban born pianist and composer Dulce Joya has studied, performed and taught music in Colombia, Austria, and Germany, where she currently resides. Her 2017 release, "Reality of Dreams," was an fascinating musical journey through the boundaries between fantasy and reality. Her latest release, "Devotion," further displays the artist's technical prowess at the piano as well as her unique ability to combine classical traditional with contemporary sounds. And make no mistake: Dulce Joya is no wallflower and this is not background music. There is plenty of interest here to utterly captivate the most demanding listener through numerous plays.
Devotion begins with the beautiful "Passione Nocturnale." Like a Chopin nocturne, this one explores a full range of expression, from quiet and tender to sweeping and dramatic. "Yes It Is You" is an emotional ballad, tender and deeply moving. "The Sound of Your Voice" is a tender, melodic love song; I could easily imagine lyrics set to this one. Although it is nearly impossible to choose, "Eternal Love," which features a gorgeous melody embellished with riffs reminiscent of Rachmaninoff, just might be my favorite piece on the album. "Forgotten Words" is dark and enigmatic and put me in mind of a scene from a Tim Burton movie.
The richly textured "Oceanally Hearts" expresses a yearning passion and showcases a dramatic melody accompanied by powerful chords and octaves in the bass. The next two pieces, "My Untamed Soul in Yours" and "The Endless Feelings of Mine" are intense yet thoughtful explorations of what it means to love and be loved, encompassing a range of emotion from poignant melancholy to unbridled joy. Have you ever met someone that you had an instant connection with? "From Ancient Time We Meet Again" perfect captures the feeling of joy that happens when two hearts recognize each other as if from a past meeting. "Mistery Among Candles" is another dark and mysterious cinematic piece performed with astonishing sensitivity and virtuosity and a fitting conclusion to this unforgettable album.
"Devotion" is one of the most exciting solo piano albums I have heard all year, and I give it my highest recommendation!