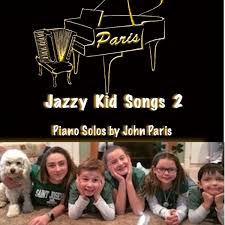 "Jazzy Kid Songs 2" is composer and arranger John Paris's twelfth album to date and the follow-up to his 2017 release "Jazzy Kid Songs." Dedicated to "the kid in all of us" and with the smiling faces of Paris's five grandchildren (and one grandpup!) beaming on the cover, one might conclude that this is an album meant for the nursery. But make no mistake: although I have fond memories of these classic songs from my own childhood, these arrangements are smart and sophisticated and suitable for listeners of ALL ages.
My first experience listening to these pieces was during a road trip from Atlanta to Nashville. I popped the CD into my car player and found myself practically dancing in my seat from the first phrase of "Frere Jacques" to the last chord of "Recess" (the only original composition on the album). "May the music bring a smile to your face and make you tap your toes," says the liner notes, and boy, does it EVER!
The well-known French folk tune "Frere Jacques" and a head-bopping version of "Polly Wolly Doodle" set the tone for the entire album. Like the rest of the tunes, these arrangements are filled with abundant energy, lightness of spirit, and myriad twists and turns: melodic, tonal and rhythmic surprises and embellishments of every kind. "Billy Boy" is a solemn, bluesy take on the tune about poor Billy, whose true love is too young to leave her mother. "Old Dan Tucker," with its intricate interplay of complex rhythms and unique harmonies, is a catchy favorite.
"The Ants Go Marching" features a lively right hand melody over a persistent left hand accompaniment doing a mighty impersonation of a snare drum – positively mesmerizing! The mood changes with "Hush, Little Baby," an artful arrangement of the famous lullaby. The spirited "Camptown Races" is followed by a highly syncopated version of "London Bridge." In another favorite, "The Wheels on the Bus," the left hand rolls along in a repetitive pattern while the catchy melody is punctuated with imitations of a honking horn and various street sounds. "There's A Little Wheel" took me back to my Sunday school days; this rendition is richly textured and positively gorgeous! The rollicking "Recess," which aptly expresses the euphoria of children at play, brings the album to an exciting conclusion.
If you enjoy listening to solo piano and/or jazz and whether you're a child or a child at heart, you will LOVE this album. Very highly recommended!