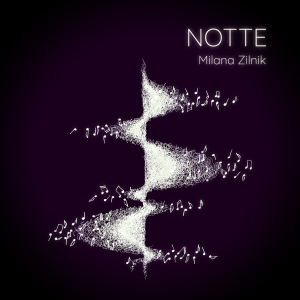 Milana Zilnik is no shrinking violet. According to her website, "soulful singing and complex piano melodies are [her] signature, but she embraces a variety of styles – everything from folk, blues, opera and Middle Eastern, to her soft spots for rock and jazz." Now, in her latest album, Notte (release date June 1, 2019), she explores the genre of minimalism.
As the name suggests, minimalism involves stripping down music to its barest essence. First developed in the early 1960's, minimal music has entered the mainstream, with such composers as Philip Glass, John Adams and Michael Nyman enjoying long and distinguished careers. Although it isn't everyone's cup of tea, minimalism is currently experiencing a surge in popularity. Often, pianists composing in this style perform on a "prepared" piano – a piano with objects placed on or between the strings, or some strings retuned, to produce unusual tonal effects. Milana recorded Notte on the new piano from Native Instruments, Noire sampled from Nils Frahm's concert grand, custom intonated and augmented with a felt damper, and featuring an innovative particles engine – loops of mechanical noises, triggered by the notes themselves and following the tempo, adding unique and atmospheric percussive elements to the album.
The Italian word "notte" means "night," a setting that provides the perfect context for Milana's experiment; each of the twelve tracks of the album is an improvisation for the twelve hours between dusk and dawn. In effect, this is a free-floating, ambient chronicle of nighttime. With expressive titles such as "Reflections," "Quietude," "Longing" and "Calmness," this music is diaphanous, gentle and atmospheric. Favorite tracks are "Twilight," with an ever so slight jazz vibe; the faintly haunting "Longing"; and "Dreams," with soft wind chimes in the background. However, I believe this album will be best enjoyed as a whole, from beginning to end, perhaps as a soundtrack for sleeping.
What do you get when you combine creative genius, technical prowess, a willingness to explore new frontiers, and the utilization of the best of music technology? "Notte," that's what. This album is a must-hear for lovers of ambient, minimalistic solo piano. Recommended!