My daughter, Mackenzie Colleen Geyer, would be twenty-five today. She was born May 4, 1994 with an extremely rare genetic condition called Trisomy 13, meaning she had three copies of chromosome 13 in each cell of her body instead of the normal two copies. This disrupts the normal course of development and causes the associated anomalies: heart defects, brain and spinal cord abnormalities, very small or underdeveloped eyes, cleft lip and cleft palate, and weak muscle tone.
I had no idea anything was amiss until I reached 26 weeks gestation and went to the emergency room with abnormal bleeding. An ultrasound revealed the abnormalities; a subsequent amniocentesis revealed the cause. Most cases of Trisomy 13 are not inherited; either the egg or the sperm ends up with an extra copy of chromosome 13 as a result of random events. And it is very rare, occurring only once in every 16,000 newborns.
Before the ultrasound technician became aware of the situation, though, she revealed that the baby was female. A little girl! I had about two minutes of pure joy, contemplating the fact that I was going to have the daughter I had always wanted.
But once the diagnosis was made, I was gently encouraged to terminate the pregnancy, because even if it were to run its course, and the baby were to survive birth, she wasn't likely to live more than a few days. Only a tiny percentage of Trisomy 13 babies make it to their first birthday.
However, I decided to continue with the pregnancy. Instead of being put on bed rest, I was instructed to go about my normal routine. Some folks prayed for a miracle and encouraged me to do the same; others were sure I was being punished for some horrible past transgression. I did my best to ignore them all. I got up every morning, put one foot in front of the other, and survived each day.
The pregnancy reached full term. I went into labor but waited as long as I possibly could before going to the hospital. Unfortunately, everyone in the delivery room wasn't prepared for my daughter's arrival. Some seemed shocked when they saw her. They stared at me, waiting for my reaction. Babies with Trisomy 13 have low birthweight, a small head with a sloping forehead, and major structural problems with the brain and skull. Their eyes are close set and underdeveloped, as are the nose and nostrils. Most have cleft lip and cleft palate. Mackenzie displayed all of these.
The first question I asked postpartum was, "Is she alive?" And she was. I didn't know whether to feel happy or sad about that. It was very strange. But everything changed once I held her in my arms. I didn't want to let her go. I wanted to keep that little girl forever. I would have done anything to make her healthy and whole.
We were sent home just a few hours later. Mackenzie was tiny and blue and had many physical challenges. She was unable to nurse and had to be fed with a tube. It was all rather overwhelming. Thankfully, my parents and my then-husband's parents came and stayed with us for the duration. Our pediatrician made house calls and hospice came to assist.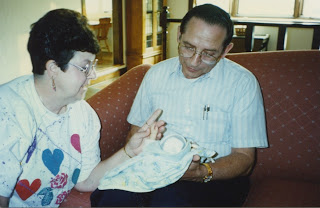 My little girl touched so many people in the short time she spent on this earth. No one can tell me her life wasn't worthwhile. Yes, I suffered those last twelve weeks of the pregnancy. But I would have missed out on so much if I hadn't known Mackenzie. She was soft and warm and sweet. I hardly slept, wanting to spend every possible moment with her. And after a couple of days at home, she seemed to improve. She turned pink and became very peaceful. I think she must have sensed all the love that surrounded her. We fell into a routine. I didn't want it to end. But six days after she was born, she stopped breathing. Her dad and I gave her permission to go, and she left us.
Despite my fears, I made the decision to get pregnant one more time, and two years later Nathan was born, normal and healthy. For that I am eternally thankful. But I think about my daughter every day, and wonder about the young woman she would have grown up to be. I even wrote a song for her. I hope that it will bring some small measure of comfort to others who have lost a child too soon.
Happy Birthday, Mackenzie. I love you. I miss you.