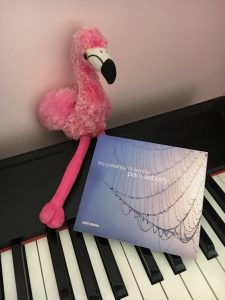 My new album, The Presence of Wonder, is scheduled for release on Friday, April 12th. Dick Metcalf calls it "hypnotic, powerful, peaceful solo piano" (click HERE to read the full review). But I need your help! Here are five things you can do right now to help support the launch of The Presence of Wonder:
1. Preorder the album (both digital and physical formats are available) and/or the companion sheet music at Bandcamp (click HERE). You get the title track now (streaming via the free Bandcamp app and also available as a high-quality download in MP3, FLAC and more), plus the complete album the moment it's released (April 12th). The special pre-sale price is just $10 per CD ($9.99 for the digital download) and $20 per sheet music book. After April 12th, the prices will go up to $12.95/CD, $25/sheet music book, so why wait?
2. Pre-save the album on Spotify (click HERE). By pre-saving, you can hear The Presence of Wonder as soon as it becomes available on Spotify and show Spotify that my new album is worth adding to their own playlists! Just click on the link above, then click on the green Pre-Save on Spoity button. Then click Accept. That's all there is to it!
3. Make plans to attend my album release concert on Saturday, April 13th from 6-8PM at PianoWorks in Duluth, Georgia. Hear the stories behind the songs; CD's and sheet music will be available for purchase and autographing. This concert is FREE but donations are welcome. To RSVP, click HERE.
4. Watch the promo videos on my YouTube channel (click HERE) – and, if you haven't already, please subscribe to my channel!
5. Share the link to this blog post with your friends!
Finally, thanks to everyone who took the time to vote for Thankful Heart, Joyful Mind for Best Holiday Album at Enlightened Piano Radio. Thanks to your support, Thankful Heart, Joyful Mind is one of three nominees for that coveted award! Now all the nominated albums will be sent to a panel of judges who will select this year's winners, which will be announced at the September concert and awards ceremony at the Place des Arts in Montreal, Canada. All the nominees are invited to perform there and I am over the moon about this opportunity – which wouldn't be possible without YOU!