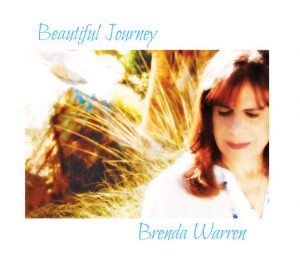 Music has been a lifelong passion for pianist Brenda Warren, who began studying classical piano at an early age and earned her Bachelor of Arts degree in Music at San Francisco State University. An accomplished composer, she has written an award nominated musical, scored documentary films, had song placements in film and television, and recorded three solo piano albums with instrumentation. Her 2018 release, Beautiful Journey, was recorded at Imaginary Road Studios with William Ackerman, the Grammy winning producer and founder of Windham Hill Records. Part solo piano and part instrumental, this album of original compositions features twelve pieces inspired by overcoming hardship and finding the strength we find in ourselves to move forward.
Like many of the selections on the album, the first track, Imagine Spring, has an Asian flair, with its open intervals and transparent harmonies, one can almost smell the scent of cherry blossoms in the air. Open Heart begins as an elegant piano solo then is joined by the cello, the two voices intertwining like lovers in an embrace. Passing Through is joyful and carefree, its interplay between vocals and other instruments reminiscent of the various people we encounter and interact with on life's journey. Predominantly piano, Without You is darker, its rich bass thickly textured and jazzy chords both pensive and melancholic. The title track, Beautiful Journey has a left hand accompaniment pulsing like steady footsteps; its melody builds slowly like a hiker climbing to the top of a mountain with a beautiful panoramic view before reluctantly descending. Beneath Cherry Blossoms is a direct nod to the image of cherry trees awash with perfect pink blooms. It starts with solo piano, which is soon joined by wind synth and percussion; this beautiful ensemble instantly transporting the listener to Japan in the springtime.
New Morning, a duet for violin and piano, is a restful harmonious contemplation of the fresh start each new day offers. As Ralph Waldo Emerson said, "This new day is too dear, with its hopes and invitations, to waste a moment on the yesterdays." Another beautiful ensemble piece, Awakening, is a meditation on the experience of the confused and frightened self, transcending to a higher consciousness, an awareness full of love and peace. Blue Sky Day, pure solo piano at its finest, features ostinato left hand chords topped by a sweet melody almost childlike in its innocence. The improvisatory Drifting is another gentle piece that opens as a piano solo but brings in most of the ensemble in the middle of the piece before finishing as a solo. The haunting Delicate Dance is a stately waltz. The poignant Forgiveness brings this music to a powerful and soul-satisfying conclusion.
Beautiful Journey is a musical voyage you don't want to miss. Highly recommended!