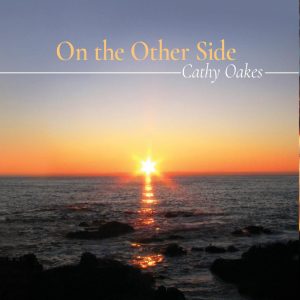 On the Other Side is composer and solo pianist Cathy Oakes' fourth release and her first venture into the world of orchestration. Five years in the making, it is imbued with all the emotion, passion and reverence born of the myriad of life experiences that took place over the course of that time. It is, in a word, spectacular.
The album opens with the majestic and flowing Hymn for Peace, a prayer for the United States. From This Day was composed for Oakes' oldest son Michael and his wife Kristin to celebrate their marriage. With its lyrical melody and dramatic key change altering the color and tone of the piece, this one perfectly captures both the joy and solemnity of a wedding day. Echoes of Time is a musical portrayal of the most precious and memorable moments of a lifetime, both happy and sad, with rapid shifts between major and minor keys, low notes and high, flitting about as thoughts so often do. Home with Annie was written in memory of Oakes' cousin Bob Shingleton and his wife Annie, its poignant piano melody conversing with the oboe in a song of love.
The merry Kessia's Waltz was composed for Oakes' granddaughter Kessia and put me in mind of a carousel ride. Puddle Dance was inspired by Oakes' experience watching a friend teach his toddler granddaughter how to jump in puddles. This one is a favorite and sounds like so much fun to play! It perfectly captures the innocence and delight of one of the simple pleasures of childhood and made me want to get outside and stomp in a few puddles myself! The epic and cinematic Flight of a Princess was written for Oakes' youngest child pursuing her dreams as a real-life princess at a theme park in Florida and is another favorite. Lullaby from Afar is dedicated to the women who never have the opportunity to hold their babies. Its pure melody sings like a mother's voice over a gently rocking left hand accompaniment and brought tears to my eyes.
Just Us is an improvisation written for Oakes' husband, Buddy, as a valentine gift and musically summarizes ups and downs of a love affair that has survived life's challenges with triumph. The beautiful Midnight Tide ebbs and flows like the memories and regrets during the wee hours of the morning. The theme for Sienna's Dream was composed by Oakes' then nine-year old granddaughter Sienna during a holiday visit and skillfully developed into a memorable composition. I look forward to future collaborations between these two generations! The tender Ripples on the Water reminded me of the way "everything affects everything" and the impossibility of measuring how much impact our behavior has on the lives of others.
Remnant Tears refers to the tears of joy and sorrow that catch us unawares long after initial stages of grief have passed; the music reflects both sorrow and acceptance. Heal Me was composed as Oakes recovered from a serious illness and expresses both questioning and yearning. Beloved Promise is dedicated to Oakes' son David. Graceful and affectionate, it is an expression of his steadfast nature. Be Still My Soul reflects Oakes' delightful personality as an artist while remaining absolutely faithful to the original hymn. The title track, On the Other Side, written as Oakes processed her grief over her mother's death, conveys both sorrow and hope; it is both virtuosic and profoundly moving.
On the Other Side is an amazing musical journey. Arguably Cathy Oakes' finest album to date, I give it my highest recommendation!