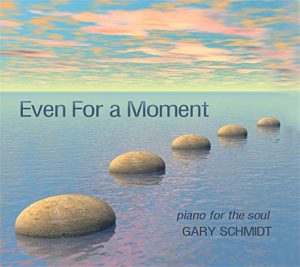 Following the success of his 2016 album Landscapes of the Heart, Heart Dance Records pianist and composer Gary Schmidt has released his second album Even for a Moment. With twelve new original solo piano pieces and two classical selections, this album is a pleasure from start to finish.
The album opens with If This Is the Time, its sweet, lyrical melody balanced by a buoyant left hand accompaniment. Cellist Hannah Alkire joins Schmidt on Inside This River, reflective, almost melancholy melody twisting and turning over the upper registers of the piano. The mood shifts in the middle section – the romantic melody and buoyant accompaniment is reminiscent of a romantic barcarolle – which is followed by a brief return to the opening theme ending on a somber note. And in the third track, Face That Lights My Face Schmidt teams with his brother, Roger Schmidt, on acoustic guitar; the two instruments blend perfectly in joyful harmony.
A Train Leaves the City, its rich, resonant bass contrasting with a tinkling melody in the upper register, beautifully captures that feeling when someone beloved must leave you despite your wishes to the contrary. Flutist Sherry Finzer joins Schmidt in The Breath At Dawn, featuring an ostinato bass left hand and a delightful interplay between the eloquent right hand melody and the deep, rich flute. There is nothing that creates greater anticipation and sense of well-being than the soft light of predawn on a cloudless morning and this piece captures those feelings perfectly.
There are two classical tracks on the album; the first, Handel's Minuet in G minor (arranged by Wilhelm Kempf) is a Baroque delight. In this performance, Schmidt's classical sensitivities are evident. At the age of six, after hearing a classical piano recording owned by his mom, he declared to his parents that he would be a pianist when he grew up and proceeded to teach himself how to play. At age fourteen, without any formal training, he won third prize in the prestigious Jeunesses Musicales piano competition in Quebec, after which he began formal studies. Most impressive!
Even for a Moment is a favorite. Once again, Schmidt is joined by cellist Hannah Alkire; the sparkling melody of the piano contrasts superbly with the rich depths of the cello in a way that is almost conversational. In Sub Tide, combining forces again with his brother on the guitar, Schmidt creates an impressionist style painting of being underwater. Simply By Looking is another exquisite collaboration between piano and cello as is The Light Seems to Move. Another sound painting, this one alternates between flashes of bright light, then steady moving light not so bright, then strange diffuse lights illuminating clouds. Crescent Light, a little gem of a piano solo, is the perfect follow-up.
Schmidt collaborates with flutist Sherry Finzer again in No Better Gift. Simple but splendid, it is another favorite. I have always felt that Samuel Barber's Adagio for Strings is one of the most transcendent pieces of music ever written and this ethereal arrangement for solo piano by Lawrence Rosen and its heartfelt performance by Schmidt do not disappoint. The finale Postlude to a Moment brings a gentle conclusion to an album filled with beautiful moments.
Schmidt believes his life's mission is "enhancing life through music" and this passion and spirit shines through in every piece on this album. Very highly recommended!