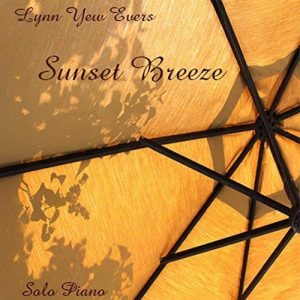 Lynn Yew Evers' latest release, Sunset Breeze, is a sumptuous blend of joy and sorrow, optimism and regret, exuberance and melancholy. Evers' polish and artistry as a performer are the result of many years of classical training but her original compositions are both contemporary and accessible. A native of Malaysia, Evers began her musical adventures on a toy piano at the age of four; by the time she was nine she was both performing and composing. She went on to obtain a degree from the Trinity College of Music in London and came to the United States in 2009 to further pursue her career as a professional musician. Sunset Breeze is her fourth solo piano album.
This collection begins with The Dancing Doll, a haunting and mysterious number, followed by Ocean Wind. With its sparkling melody and persistent accompaniment, Ocean Wind put me in mind of a traveler on a sailing vessel anxious to return home into the arms of a loved one. Eternity is a wistful, nostalgic piece, creating in my mind a reflection on a past tinged with touches of regret. The next track, Oriental Moon, is a favorite. A colorful sound painting, it begins with powerful octaves in the bass, perhaps symbolizing the darkness of night, contrasting with twinkling arpeggios in the upper register, adding splashes of starlight. The soaring theme woven throughout is at once melancholy and pensive. Following is Soaring, a musical expression of sheer joy, and another favorite.
Next comes Sunset Breeze, the title track, which brought to my mind the happiness and contentment experienced at the end of a day well spent. Where Do I Go From Here?, with its upward movement at the end of each phrase, seems to form a melodic question mark and a musical representation of the dilemma we all find ourselves in from time to time. Happily, the positive resolution at the end of the piece leads me to believe the answer was found. Without Words reminded me of Hans Christian Anderson's famous quote, "Where words fail, music speaks." This piece conveys a heartfelt message that words simply cannot.
You Are the Promise, You Are My Home is clearly a love song, but this is no ordinary love. The music conveys a passion and euphoria that made my spirit soar. Reminisce, with its delicate opening, wistful melody, and occasional lapses into dissonance and minor chords, always returns to a happy place.
Khai Qin's Song is a nod to someone obviously dear to the composer, its tender melody accompanied by luscious harmonies. Heim Angelus comes next, followed by A Walk in a Chinese Garden. Evers herself says that one of the greatest inspirations for her work is her devoted relationship with God and nature, and this imaginative piece is evidence of that. As we follow the winding path, exploring the ponds, rock works, trees and flowers, two main themes emerge in the music, perhaps representing the harmony that is meant to exist between man and nature. The final piece, Prelude in D minor, perhaps inspired by the preludes of Chopin and another favorite, brings the album to a bittersweet ending; its main theme, in the key of D minor, alternates with a contrasting major section and ends on a major chord.
Sunset Breeze is an excellent follow-up to Evers' first three albums. Highly recommended!