I am writing this on Thursday evening, at the close of my first day of recording at Piano Haven Studios in Sedona, Arizona. Engineer and recording artist Joe Bongiorno and I worked four hours and recorded sixteen of the twenty-seven new original solo piano pieces/holiday arrangements I have composed in the past year. Tomorrow I am hoping we will be able to finish the remaining recordings so we can devote Saturday to edits. It has been an altogether productive and soul-satisfying day.
But I arrived here on Monday evening and spent my first two days in Sedona sightseeing, shopping and EATING. And that very first night I had what might arguably be the very BEST variation of a fish taco I have ever had. After a long day of travel – which started at 5:30AM and involved a ride to the Atlanta airport, a flight to Phoenix, a rental car and a two and a half hour drive to Sedona – I was both exhausted and famished. So even though it was only about 5PM local time, I took a short walk from my hotel to the Javelina Cantina and requested a table for one.
I started my meal with a blood orange tequila. I read about this variation on a traditional margarita in the airline magazine during the flight over and had been hankering one ever since. Javelina Catina's version was made from Azunia Bianco tequila, triple sec, Finest Call blood orange, and fresh sweet and sour mix. With a basket of warm chips and a bowl of homemade salsa on the side, it did not disappoint.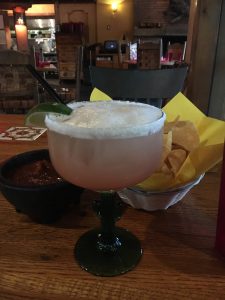 Choosing my entree was more difficult. Rocky Point Fish Tacos, Baja Shrimp Tacos, and Blackened Grilled Catfish Rellenos all competed for my attention.  But in the end I opted to try the Salmon Tostada: a grilled salmon fillet served with black bean mango salsa, lettuce, and fresh sliced avacad, topped with avocado vinaigrette dressing, with rice and beans on the side.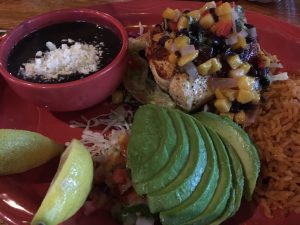 Here's a close-up of the tostado itself.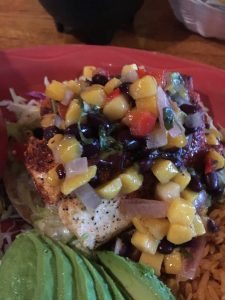 As I mentioned earlier, it was arguably the best variation of a fish taco I have ever had. As a matter of fact, it was comparatively SO good that I have decided to add a rating to the fish taco reviews I post each Friday, in which five is the BEST fish taco I have ever had and one is the WORST.  Obviously, the salmon tostado receives my highest rating, five stars. I could eat this every day, folks.
Very highly recommended! And I hope you will check back on Monday to find out more about my amazing adventures in Sedona!