Once upon a time, I was a vegetarian. I love me some fruits and veggies and tofu done right. But after a few months as a strict vegetarian I found myself longing for seafood, especially salmon and sushi, so I declared myself a pescatarian and satisfied those cravings. It wasn't until I started pretending that bacon was a condiment and hot wings were vegetables that I gave up the charade and admitted to being the gluttonous omnivore that I am today. And one of my favorite things to eat is fish tacos. They are available on the menu in all kinds of restaurants, from American to Asian to Mexican; made from every kind of seafood, from shrimp to salmon to tuna; and come seasoned and topped in endless ways. I do believe I could eat them every day! However, moving forward I am committed to trying a new fish taco once a week. And I will share my dining experiences right here, every Friday!
This week's fish taco feast took place at El Real Mexican Grill in Bethlehem, Georgia. Since my parents moved to my part of the world last November, El Real has become our go-to Mexican place. It's a 30-minute drive from my house to the restaurant, but it is well worth the trip.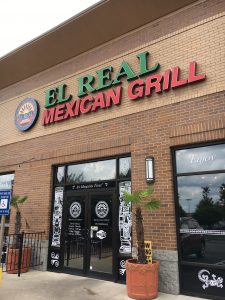 Since we visited in the middle of the day, I ordered the lunch portion of fish tacos on flour tacos (corn tacos are also available) with a side of chicken soup (other side options are rice or beans).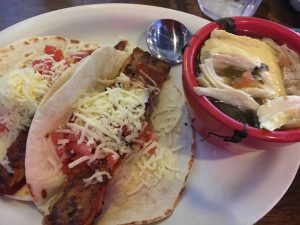 Isn't this a beautiful plate? And everything tasted as good as it looked! I could have made a meal of the soup alone, a savory chicken broth loaded with shredded chicken, pico de gallo, avocado, and tortilla strips. But the tacos were amazing too, perfectly seasoned tilapia topped with tomatoes, onions, lettuce, and cheese. And I can't forget the hot, crispy chips and spicy salsa served as an appetizer (although I did forget to take a picture!) Yep, this was a perfect meal from start to finish!
On my way out, I took a selfie with the in-house musician. I guess you could say he's the strong, silent type.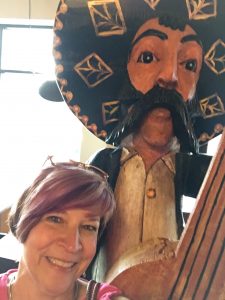 So the next time you're in Bethlehem, Georgia, I hope you will give El Real a try! And be sure to check back here next Friday for my next fish taco adventure!