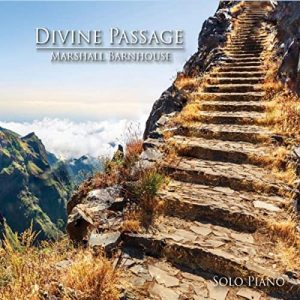 Marshall Barnhouse is a pianist, composer, teacher and recording artist who has pursued his love of music since age eight. In every situation, his goal is to guide others into the beautiful, expressive, and spiritual qualities of musical experience. A Glenville State College music education graduate, Barnhouse holds a Masters of Arts in Piano Performance from Marshall University.  Throughout his professional career he has performed different genres of music in various venues. Now a retired public school music teacher, he maintains a private studio in Hurricane, West Virginia and serves as Director of Music at Forrest Burdette Memorial United Methodist Church.
His third album, "Divine Passage," was recorded in July 2019 at Piano Haven Studios in Sedona, Arizona; the piano sound is divine and the perfect vehicle for this heartfelt collection, composed to reflect the universal experience of our divinely appointed journeys through this world. The opening, title track, is dark and mysterious, almost mystical, expressing unity, love, joy, and peace of mind. "The Traveler" reminded me of sitting in a car watching a pastoral view out the window and offers, perhaps, a metaphor for our wanderings on this earth.  "All Grown Up" took me back to the days when my own three children were small – bittersweet memories, because the years went by so fast! "First Love" recalls the innocence of first love, a pure attraction, led by the heart and not the mind – a once-in-a- lifetime and unforgettable experience. "A New Beginning" is cheerful and sunny, a musical depiction of the lightness of heart that accompanies choosing to let go of the past and make a fresh start. "All Joy" is cheerful and buoyant with just a hint of an edge – an uplifting encouragement to those who choose to count not just the happy events, but also the trials of life, as positives.
Listening to "As Time Goes By," I had the sensation of simultaneously looking back at the past but also looking ahead to the future, with a complex mix of emotions: joy and regret, optimism and sorry, hope and acceptance. "Remember," with its gently undulating accompaniment, put me in mind of an older person sitting in a rocking chair, moving slowly forwards and backwards, looking back on a life well lived.  "Was It a Dream" sparkles like a star-lit night and perfectly captures that magical space that exists between sleeping and waking. "Why Worry" is cheerful and optimistic, a timely reminder that most of the things we fret ourselves about never come to pass. Just like sitting on a riverbank and watching the movement of the water has a calming effect on the mind, "By the River" is peaceful and meditative. "Home Again" had a bit of a Celtic flavor and is mellow and comforting. The album concludes with "What We Leave Behind," a thoughtful, elegant piece that weaves turbulence and yearning into a colorful, romantic tapestry.
"Divine Passage" positively overflows with serenity and peace "which transcends all understanding." Very highly recommended!