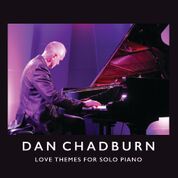 "Love Themes for Solo Piano" is a collection of thirteen pieces exploring and affirming love in its many forms. Recorded at Joe Bongiorno's Piano Haven Studio in Sedona, Arizona on a Shigeru Kawai, the sound is amazing. Several tracks on the album were improvised on the spot in the studio and recorded in single takes directly onto the album; others began as improvisations in various concert settings and were subsequently transcribed onto sheet music and played in studio for the recording. There are also three "traditionally composed" pieces. Regardless of origin, every single track is an absolute jewel.
The album opens with "Starlit Waltz," an elegant, sparkling dance. "Gentle Touch" has a sensual, slightly jazzy feel and would be the perfect background music to a romantic dinner by candlelight. The warm and sweeping "Cherished" is a favorite. "Stillness" put me in mind of the serenity of a moonlit night over a blanket of freshly fallen snow. "Newborn Joy" celebrates the birth of an infant, its gently rocking accompaniment supporting a sweet, simple melody. "Timeless" plays like a movie soundtrack from the golden age of Hollywood, leaving it up to the listener to decide upon the story, and is another favorite.
The richly textured "Grounded" explores the rich lower registers of the piano and contrasts beautifully with "Stars Above Sedona," a musical painting of a spectacular starlit sky illuminating the ancient and mysterious Red Rocks. "Longing," composed in a minor key and featuring a persistent rhythmic motive, is a profound expression of missing someone you just can't stop thinking about. "Reminisce" is a beautiful reflection upon a happy time past. A profound expression of thankfulness, "Grateful" positively soars. The final track, "Shalom," is a heartfelt tribute to Dan's mother Margaret who passed away during the production of the album and moved me quite literally to tears.
Dedicated to his husband and musical partner Thom Nicholas, Dan Chadburn's "Love Themes for Solo Piano" is one of my absolute favorite albums of the year. I give it my highest recommendation!