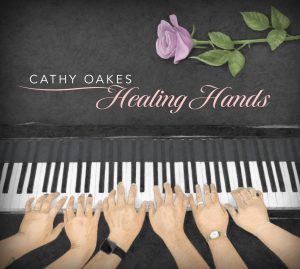 Cathy Oakes' latest release, "Healing Hands," is dedicated to the team of medical professionals who cared for her during her journey through breast cancer. Arguably her most intimate and personal collection to date, Cathy created this music to minister to other women who will follow her down this difficult path. Wonderfully melodic, rich with expression, and masterfully performed and orchestrated, the tracks on this album tell a powerful story and succeed in portraying the myriad emotions that accompanied her cancer diagnosis and treatment.
The album opens with "The Threshold," written the morning Cathy went in for surgery. There are elements of disbelief and sorrow as well as an acceptance of whatever the outcome might be. "Healing Hands" is dedicated to Dr. John Brown and Jennifer Konke of Maury Regional Medical Center in Columbia, Tennessee. Its sweet, simple melody expresses an almost childlike innocence and trust in the work of these two medical professionals. "Letting Go" was written in the wee hours of the morning when Cathy was forced to acknowledge how little control she had over the situation she found herself in. It is a somber yet hopeful meditation. Cathy's "Blanket of Solitude" throughout her journey was God, her Bible and the hymns of her childhood; the music is rich and warm and conveys a powerful sense of peace and well-being, like being wrapped in a soft quilt with a cup of hot tea, alone yet not lonely. With melodic ideas rapidly rising and falling, "Wings of Change," vacillates between melancholy and euphoria, illustrating that although change is an inevitable part of life we get to choose whether we will resist them and struggle or embrace them and soar. "The Darkest Hour" put me in mind of a Chopin nocturne and is probably my favorite track on the album (although it is almost impossible to choose!)
"A Silent Prayer" asks the age old question "Why me?" and is answered by "Grateful," a simple expression of gratitude to everyone who supported Cathy through her darkest days. "A Fragile Grasp" is questioning and tenuous and ends on a somber note, but positivity returns with "Anchor of Hope" and "Thankfulness" – a positively soaring expression of gratefulness accompanied by what might be an angel choir! The final track on the album, "Blessed Journey," brings the album to an uplifting conclusion, reflecting on a situation that has been one of life's ultimate challenging yet acknowledging the strength and wisdom that have resulted from facing it head-on.
Congratulations to Cathy Oakes on another magnificent release! Very highly recommended!