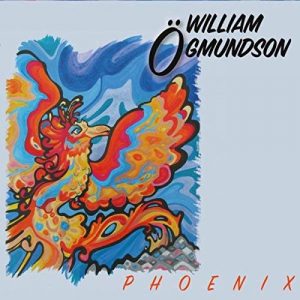 William Ögmundson is an award winning and EMMY-nominated composer and lyricist and a classically trained solo pianist. He began performing at the age of five, has played in prestigious halls around the world, and has released six solo piano albums to date. His 2016 release, "Phoenix," is a musical feast. This unique collection cannot be categorized into any single genre, nor I cannot identify any particular tracks as favorites. That's because they're ALL my favorites.
According to the composer, 2016 was a year of many changes and, as the title suggests, the theme of the album is rebirth. All the pieces on the album showcase the piano, but a Hammond B3 is added on many tracks; also included are orchestra bells, marimba, woodblocks and more. For example, in the opening track, "Diabolical Development," Ögmundson plays both piano and organ; as he explains, "this was actually the hardest song for me to record because I can't play the organ properly, so I had to layer multiple tracks together, and I ended up having to lie on the floor and play the foot pedals with my hands." Impressive, yes? This syncopated, driving piece with its contrasting melodic section has a Spanish flair and gets the album off to a toe-tapping start.
Next is "Heather's Processional," a tender, romantic march written for Ögmundson's wife just a few weeks after they met and eventually used as their wedding processional. This is followed by "Piranha" which features an energetic, somewhat ominous melody darting to and fro above driving left hand octaves, and a contrasting boogie-woogie section. "Walking in H2O" is an expansive new age piano solo inspired by a lovely poem by David Whyte; the Hammond organ adds a rich depth to this one. The playful and joyful "Pip's Delight" inspired by Ögmundson's four-pound Papillon, a dog breed descended from the toy spaniels frequently portrayed in the paintings of the Old Masters dating back as far back as the 16th century. This joyful piece is peppered with touches of the Hammond organ for an extra touch of whimsy.
The piano solo "Full Moon on Snow" offers a contemplative and captivating melody with a luscious chordal accompaniment and put me in mind of the music of Erik Satie. In "Cosmic Spider," Ögmundson added a number of eerie studio effects, including panning to give the effect of a spider crawling between the speakers; glorious arpeggios rise and fall like a spider skittering up and down one's living room wall. "Maypole" combines the piano, the Hammond organ and sampled harpsichord to create an elegant Renaissance dance. For the sultry and alluring "Seduction," the artist filled wine glasses with various levels of water to achieve certain pitches and used them as accents.
The title track, "Phoenix," about the mythical bird being born, burning up and then rising again from the ashes, is musical storytelling at its finest and brilliantly displays the Ögmundson's sensitivity and virtuosity as a pianist. The exuberant "Joy Everlasting" has a childlike, innocent quality and incorporates piano, marimba and orchestra bells. "Johnny's Prelude" was originally composed as incidental music for the hard-hitting yet humorous Eugene O'Neill play "Anna Christie," which tells the story of the reunion of a troubled father and daughter in the docks of New York City. The final track, "Red Sky at Morning" starts with a minimalist, repetitive structure but eventually soars into a glorious sunrise and is the perfect conclusion for this amazing collection of pieces.
It made me laugh; it made me cry. Truly, "Phoenix" is one of the most unique and satisfying solo piano albums I have heard in ages, and I give it my highest recommendation.