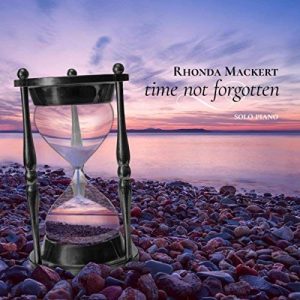 Solo pianist and composer Rhonda Mackert grew up in the mountains of Colorado. She started piano lessons at age eight, switched to flute at age twelve, and returned to the piano as an adult. Now a resident of Seattle, Washington, Rhonda's music is straightforward, intensely personal and evocative and I am delighted to have the opportunity review her fifth and latest recording, "Time Not Forgotten."
The album opens with "Dancing Through My Memories," composed on a gray, rainy winter morning in which Rhonda found her thoughts drifting back to sunnier times from her childhood; this nostalgic waltz sets the stage for the remainder of the album. The second track, "Walking Among Giants," is solemn and brooding and reminded me of my first encounter with the mighty Sequoia trees in Muir Woods north of San Francisco. The title track, "Time Not Forgotten," is poignant and flowing, its melody effortlessly alternating between moments of pure joy and hints of regret.
"Molokini," with its rich base and resonant overtones, is an impressionistic sound painting of the magnificent coral reef located inside the sheltered arms of the volcanic crater Molokini in the Hawaiian Islands, a popular underwater destination where thousands of fish and marine animals cohabitate. "Monsoon" is another example of Mackert's ability to create vivid imagery with her music: persistent opening intervals sounding an ominous warning of the storm ahead, rapid ostinato left hand patterns reminiscent of swirling winds, crashing bass octaves depicting bolts of thunder. "White Cliffs" describes the composer's experience watching the White Cliffs of Dover fade from view while riding a ferry to the Netherlands. This music, which perfectly summons both the magnificence of the scenic beauty and the sorrow of loss upon leaving such a well-beloved place, is a personal favorite. Similarly, "Spring on Greyrock Mountain" is a musical memory of hiking up Greyrock Mountain, located in Roosevelt Forest in Colorado. Another favorite, "Chasing Fireflies," sweetly captures the innocence of childhood and the simple pleasure of this universally beloved summertime activity, flashes of sound twinkling like fireflies in the dusk and taking me back to my own younger days.
"Healing Places" is a gentle piece evoking the healing meccas located all around the world, which attract seekers with their restorative powers. This beautiful piece, renewing to the spirit and soothing and refreshing to mind and body, segues perfectly into "Dreaming of Sedona," itself a spiritual destination for many with its magical blend of red rocks, cool waters, singing birds and wildflowers. "Skipping Stones" recalls another childhood delight, its rippling left hand interrupted by streaks of sound in the upper register skittering over the music like stones splashing across the surface of the water. The final piece, "Free Floating," is dreamy and ethereal and put me in mind of those moments between waking and sleep when conscious thought begins to dissolve into early stage dreaming, the perfect conclusion to this introspective album.
Fans of beautiful solo piano music won't want to miss the musical memories shared in Rhonda Mackert's "Time Not Forgotten." Very highly recommended!